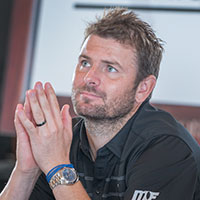 Mardy Fish shares story of his battle with anxiety disorder in documentary on Netflix
STORY BY RAY MCNULTY (Week of September 16, 2021)

On the first day of the 2015 U.S. Open, Mardy Fish went public with his battle with a severe anxiety disorder that derailed his tennis career.
Six years later, Vero Beach's home-grown tennis star is sharing his story again – in greater detail, with more depth and perspective, summoning input from family and friends – on film.
The fifth and final episode of the sports documentary series "Untold: Breaking Point" made its global debut on Netflix last week.
"The response has been overwhelming," Fish said last weekend from his Los Angeles home. "People have reached out to me from all over the world to say they suffer from similar issues and found comfort in knowing they were not alone.
"I've received thousands of messages on Twitter," he added. "Not hundreds, but thousands. Some from people you've heard of, such as players and coaches from tennis and other sports, and many from people you've never heard of.
"I'm trying to get back to everyone."
With athletes' mental health having made headlines in recent months – U.S. gymnast Simone Biles withdrew from events at the Tokyo Olympics earlier this summer, and Japanese tennis sensation Naomi Osaka has taken a break from the women's tour – Fish was flooded with interview requests throughout this year's U.S. Open, which concluded Sunday in New York.
He has accommodated as many requests as possible, accepting his role as a survivor and mentor who has experienced the damage a mental health issue can do and continues to overcome it.
"I want to share my story so I can help," Fish said, adding that he "opens up" more in this documentary than ever before.
"The timing for a documentary about mental health was perfect," said Fish, now 39, father of two young children and the U.S. Davis Cup captain. "There have been some very prominent athletes to come out lately and talk about how they've struggled."
For those wondering: Fish said he has spoken to Osaka, as well as other athletes who've reached out to him.
"It made me feel better when I talked about it," he said, "so, in addition to educating people about these issues, I wanted to provide others with a success story that I didn't have when I was going through it."