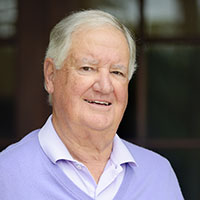 McCord resigns, creating a vacancy on Shores Council
STORY BY LISA ZAHNER (Week of September 2, 2021)
Photo: Indian River Shores Town Councilman John McCord has resigned.

Indian River Shores Town Councilman John McCord has resigned, effective Friday, and the town expects to appoint a replacement on Sept. 23.
McCord, a retired utility industry executive who worked behind the scenes on the Vero Electric sale to Florida Power & Light, was elected in November 2020, so whoever serves out his four-year term will be in office until 2024.
"I'm very sad," McCord said Monday, saying he had a great time while serving on council, but that he and his wife are leaving John's Island to move to California where their children and grandchildren live.
"I love this community, have been a part of it for 23 years and care about it deeply," McCord said, but added that it's time to have his family all in one place.
While on council, McCord served as the town's representative on the Vero Beach Utilities Commission, and his extensive knowledge of utilities and the regulatory arena leaves a void, as the town is mired in two active legal disputes with Vero which could drag on for the bulk of what would have been McCord's council term.
One person has already emerged who feels he could fill McCord's seat without a learning curve. Former vice mayor Bob Auwaerter served the town from 2016 to 2020 but then did not seek re-election  after losing the Republican primary for the Board of County Commissioners to former Vero mayor Laura Moss. Auwaerter had not filled out an application on Monday but said he would apply.
"I just want to serve the community again, particularly with regard to the reuse water dispute with the City of Vero Beach. I feel I'm the one who is the most knowledgeable about it and can bring that knowledge to bear on the town council," said Auwaerter, who has been serving in a consulting capacity on utility matters since his term ended last November.
Other interested town council hopefuls must be residents of the town for the last 12 months who are eligible to vote in Indian River County. The deadline to complete an application is Sept. 13.