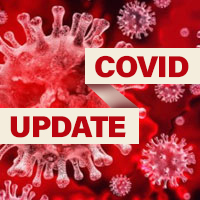 New covid cases, hospitalizations here trend down
STORY BY LISA ZAHNER (Week of September 9, 2021)

New COVID-19 infections here trended downward for the first time in 10 weeks, with cases down 14 percent this week, and more importantly, hospital admissions for COVID 31 percent lower than the previous week on top of a 9 percent decrease the week before.
Still, 1,119 people tested positive in the week ending Sept. 2, an average of 160 per day. To put that into perspective, during last summer's surge, cases topped out at 55 on the average day, fewer than 400 per week.
Statewide numbers for new infections in Florida are on a similar downward trend, and roughly 2 percent of the state's 21 million people are getting a vaccine shot each week in response to concern over the Delta variant, or requirements for travel, work, or college out of state.
The soaring number of people getting ill from the virus and its Delta variant this summer has stressed the healthcare system, but pressure on hospitals has begun to ease – at least statistically – according to the latest numbers from the Centers for Disease Control and Prevention's county-level data tracker.
In the week leading up to Sept. 1, Indian River County's hospitals admitted 82 COVID-19 positive patients, down from a peak of 124 per week last month. Forty percent of COVID beds were available last Friday, and 52 percent of COVID intensive-care beds were available, according to the CDC.
COVID testing reported to the Florida Department of Health was also down by 26 percent this past week. With that many fewer tests, the positivity rate did rise a bit, less than 1 percent.
Over the past year and a half we've seen a cascading trend in the numbers, with cases rising first, then hospitalizations, then deaths going up in the following weeks. It takes time for the weekly death count to subside once cases and hospitalizations start to decline. The CDC COVID Tracker forecasting page predicts that the number of daily deaths across the nation will continue to rise for another 10 days or so, then start to decline.