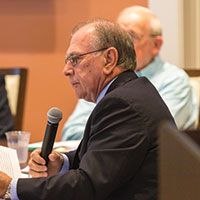 Noah Powers resigns as town manager of Orchid
STORY BY SAMANTHA BAITA (Week of September 9, 2021)

After almost six years as Town Manager of the Town of Orchid, Noah Powers has tendered his resignation, to take effect Sept. 24. 
In a letter to the Town Council dated Aug. 9, Powers stated, in part, that "recent events have given me cause to re-evaluate my employment status with the Town of Orchid," continuing: "Consequently, it is with great reluctance that I share with you my intention to resign my position of Town Manager."
Powers stated that he would like to complete the budgeting process "that I began back in May."
In a message to Orchid residents on the town's website, Mayor Bob Gibbons said that while Powers' contract is scheduled to terminate "at the end of this calendar year, he has tendered his resignation to coincide with the end of the town's fiscal year" which begins Oct. 1.
Gibbons said he has been working with Powers and City Clerk Cherry Stowe "to effect an orderly transition into the town's new fiscal year."
As mayor, he said he appreciates "that Noah will be guiding the town through the budget and millage rate setting process prior to completion of his tenure as town manager. I have valued our friendship, as well as our working relationship. I look forward to the opportunity to join the other Town Council members in paying tribute to Noah at the upcoming meetings."
Powers took the administrative helm of the tiny north county community described on its website as "luxury living cradled between the Atlantic ocean and the Indian river lagoon," on Dec. 28, 2015 after the departure of Deb Branwell, who had been town manager since 2008. Powers is only the fifth person to serve as town manager, and the Town Council will discuss how to find the sixth town manager at its council meeting on Sept. 13.
In his letter of resignation, Powers writes, "I am especially proud that I was able to fashion an agreement with the County that has potential for the Town of Orchid to receive approximately $1 million in FEMA reimbursement for expenses associated with our dune renourishments after Hurricanes Mathew, Irma, and Dorian. The revenue will benefit the Town of Orchid for years to come and should contribute to a lower millage rate in the future."
Describing Powers as a gentleman, Town Council member Mary Jane Benedetto commented simply: "He has done a very good job for the town, and he will be missed."
A multi-generational Florida native from Lee County, Powers moved to Indian River County in 1988 to work for the county school district as executive director for business and administrative services. He left for an assistant administrative position in another district and continued to work in the Florida education and juvenile justice systems, including at the state level, for years, according to the Orchid website.
He also oversaw the implementation of Florida's Lottery Funded Bright Futures scholarship program. Since its inception, more than 840,000 young people have attended college through the program.
Powers could not be reached for comment, but stated in his letter that he has "thoroughly enjoyed' his time as town manager. "Your trust, confidence and support has allowed us, as a team, to make significant positive changes," concluding, "I will sincerely miss my interactions with you (Town Council), our residents and the staff of the Orchid Island Golf and Beach Club and the Community Association."
With a population of nearly 500, roughly 80 percent of whom spend summers elsewhere, Orchid is both a municipality incorporated in 1965 and an upscale master planned community, with most town residents members of the Orchid Island Golf and Beach Club. The population of Orchid has doubled in the past 20 years.