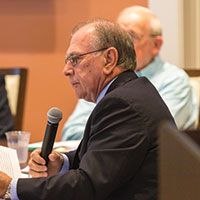 Orchid Town Manager soap opera ends with Powers taking buyout
STORY BY SAMANTHA BAITA (Week of September 23, 2021)
Photo of resigned Orchid Town Manager Noah Powers.

The summer soap opera that followed the announced resignation of Orchid Town Manager Noah Powers took a climatic turn Monday night when the Town Council, on a 4 to 1 vote, agreed to send him on his way this Friday with more than $50,000.
The council agreed that current Town Clerk Cherry Stowe would take over as interim town manager, and could apply to permanently fill the position.
Powers, as part of a settlement agreement, agreed to be available for consultation for 45 days following his formal departure, to not sue the town for anything, and in return will receive $19,261 in accrued vacation pay and a severance of $34,608.
What turned into a "did-he-jump-or-was-he-pushed" drama began when Powers, obliquely referring to "recent events" with no elaboration, tendered his resignation on Aug. 9 effective the end of this month.
But at a town council meeting Sept. 13, Powers said he had planned to stay in his job but felt he was being "forced out" after Mayor Bob Gibbons spoke to him about a transition plan for his retirement, suggesting that Town Clerk Stowe would make a suitable replacement.
Gibbons denied he did or said anything wrong, at one point blaming Powers for the situation saying he should not have resigned, and instead should have waited until the whole town council could discuss the matter.
"I love the job. I am in good health," Powers said.  "I had planned to continue in May (when his current contract would come up for renewal,) but (Gibbons' comments) made it untenable, impossible."
Gibbons countered that he had never intended to fire Powers, but had actually said he wanted to renew his contract, and put together a transition procedure (which the town currently does not have).
Gibbons said he had spoken with Stowe about her desire to advance her career, including the possibility of her at some point becoming town manager. He said he then learned Powers had told Stowe that, in his government  experience, the way to move up was by "moving out." 
"I really like Noah, and (this) was completely out of character. I wasn't going to sit back, (if) Cherry was being guided that the way you move up is to 'move out.' "
Powers replied that "she has not been guided," and that he only spoke of his own (considerable) experience in government service, where "move out to move up" is not unusual.
"Feel free to bring a lawsuit against me," Gibbons said. "I said 'I' think it would be appropriate for you to have a transition arrangement – good for you and Cherry. I don't understand your anger."
Council members were concerned they were not aware of the situation until it had come to a boil, and Councilman Simms Browning opined that Gibbons had handled the situation in the wrong way, and could have avoided "hurt feelings, instead of going out and making these decisions on your own." 
Councilwoman Mary Jane Benedetto agreed with Browning. "The elephant in the room is that Noah was not planning to retire. When someone says that, I can see where Noah wasn't ready, and to have his succession planned – 'You're gone, she's in' – I can see how he made the decision."
Benedetto, who says she has hired and fired hundreds of people, advised  the council to take some time and do a proper search for a replacement.
Stowe clarified for the council that she did not approach the mayor, or anyone else, with a desire to be moved into the position of town manager, but instead was asked about her interest in holding the position.
She noted that former Mayor Harold Ofstie had encouraged her "very early on in my career with the town to cultivate a wide range of knowledge that would allow me to follow up our town manager, which he regularly expressed to me that he felt I would be very well suited to, throughout my time working with him."
Born in the Netherlands, Stowe came to the United States and to Vero Beach in 2007 with a Master's Degree with Distinction from the University of Dundee in Scotland.
She held a corporate senior management position for Houston-based Pinnacle Financial Strategies, before taking the position of Orchid Town Clerk in December 2015, two weeks before Powers became town manager.