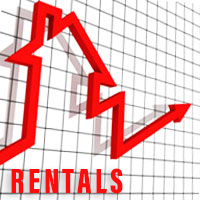 Seasonal rental rates for island properties skyrocket
STORY BY STEVEN M. THOMAS (Week of September 30, 2021)

In another measure of the barrier island's ever-increasing cache, rental rates have skyrocketed this year, jumping as much as 50 percent, with visitors paying $50,000 a month and more for waterfront properties and nearly $200,000 for 4-month seasonal rentals.
"Prices have increased dramatically, and it is difficult to find places for everyone who wants to come here," says Angela Waldrop, who manages rentals for Dale Sorensen Real Estate. "A house in Central Beach recently rented for $4,500 that went for $3,000 last year. Another Central Beach house that was $2,750 last year rented this year for $4,000.
"The highest price I have seen this year is $180,000 for a 4-month seasonal rental. Prices that high used to be outliers, but we have a dozen or more like that this year."
And price escalation is ongoing.
"People who rented on the ocean earlier in the year paid 30 percent more than last year, but for those renting now, it is 40 or 50 percent more," says Waldrop. "We have one oceanfront property that was booked four months ago but then the tenants had to cancel. When we put it back on the market, we added $10,000 a month to the rent, and it went immediately.
"I believe our market will see an even stronger increase when people book next year for the 2023 season."
Prices have reached a level such that "some owners are deciding to rent their primary residence and stay with a neighbor or family member to cash in on the high rents and shortage of properties," says Carol Makolin, a broker associate with ONE Sotheby's International Realty who manages 75 Vero properties renting for as much as $50,000 a month.
Even with more properties coming on the market, supply continues to trail demand.
"We basically have no inventory," says Makolin. "When a renter contacts us, we get on the phone and call around trying to create a rental opportunity. There are plenty of potential renters and no place to put them."
"The island rental market is seeing record demands for both seasonal and annual rentals," says realtor Heather Delamarter, who manages rentals for Berkshire Hathaway HomeServices on the island. "There is a lack of rental inventory across the board with prices up and availability down. I am working diligently to secure new rental properties for a long list of qualified and vetted clients seeking openings for this coming season." 
"We are having a tremendous problem finding places for everyone who wants to rent here," says John's Island Real Estate broker Bob Gibb, who calls a $51,000-per-month rental house shown on the JI website that is booked solid through the season "the high-middle range of our rental properties. We have higher."
While snowbirds are facing the toughest market in years as they try to find a place to nest on Vero's barrier island, locals looking for year-round rental homes are having an even harder time.
"The toughest part of the rental market right now is finding a single-family, three-bedroom unfurnished property for rent annually for my clients," says Makolin.
"At the moment there are only six unfurnished options available on the island for annual rental, including houses, condos and townhomes," says Waldrop. "Only three of those have three bedrooms or more."
Adding to would-be renters' frustrations are numerous websites and even the local MLS that show a good supply of properties for rent, even though most of them are already booked.
"Our MLS doesn't take properties down unless they are leased for the entire year," says Waldrop. "The MLS currently shows 41 options available on the island for the standard seasonal rental period of January, February and March, with prices between $4,000 and $50,000 per month.
"When I called the listings, though, only about 18 of the 41 still have availability for the 2022 season. Several of them are brand new to the market which is the only reason they are still available."
In one sense, explaining the shortage of rental inventory and corresponding high prices in 32963 is simple – an ever-increasing number of people want to live or vacation in Vero Beach and the supply of housing for rent or sale is not keeping up.
At the same time, the explanation is more complicated, with multiple factors shaping the basic dynamic.
Gibb says people are spending more time at their JI residences since the onset of COVID, reducing rental opportunities. At the same time, other island residents who rented their homes previously now don't want to because of COVID fear.
Some investors who owned rental properties in 32963 have sold them to capitalize on high home prices, reducing the number of available rentals, while others who sold their primary residence for the same reason are now renting, or trying to rent, while they search for or build a new home.
New families are coming here as Cleveland Clinic expands its staff while others thinking about relocating to Vero are snapping up year-round rentals to try on the island lifestyle before making a purchase, further crowding the market.
"Every year, we see an influx of thousands of visitors from around the globe," says Delamarter, but not enough new properties are coming on the market to keep up.
"A key factor [driving the surge in the rental market] is that people now realize they can work from anywhere," says Waldrop, and many want to work from here.
"Vero Beach is small, quiet and quaint yet offers so much with Riverside Theatre, the Museum of Art, St. Edward's, shopping and fine dining," says Waldrop.
"There are no high-rises ... and you can enjoy the sunrise in the morning at the beach and walk a few blocks to enjoy a cocktail at sunset on the Indian River Lagoon. Not to mention golf, pickleball, surfing, fishing, boating, paddle boarding, kayaking, tennis, and everything the outdoors has to offer."
Waldrop, Delamarter and Makolin all say some who want to winter here this season may end up having to go elsewhere, depending on the rental timeframes they are seeking.
But the trio also say they are doing everything in their power to prevent that from happening, working hard to lure new rental properties onto the market, emphasizing the ease of the process and the high income potential.
"This is a fabulous opportunity for people to consider renting their homes for the first time, even if just for a month or two," says Waldrop, noting that she handles "everything from professional photos to the move-out inspection and everything in between, including any tenant calls while in residence so that the landlord can relax wherever they are."