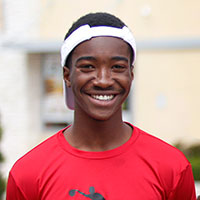 St. Edward's School drowning victim did not know how to swim
STORY BY RAY MCNULTY (Week of September 9, 2021)

The St. Edward's School senior who drowned after ceremoniously jumping off a campus dock last spring didn't know how to swim and panicked almost immediately after entering the water, where he desperately attempted to grab onto two classmates before sinking to the bottom of the Indian River Lagoon.
Those tragic details were among the findings of an Indian River County Sheriff's Office report released Friday, after detectives completed their investigation into the April 30 death of Bidensky "BT" Termidor.
Detectives, who interviewed dozens of witnesses and watched videos of the incident, determined the drowning was an "unfortunate accident," Sheriff's Office Lt. Pat White said, adding that no criminal charges would be filed.
The report, which also referred to autopsy results that revealed Termidor had a blood-alcohol level above Florida's legal-driving limit and evidence of marijuana use in his system, included statements from classmates who said a group of about 15 seniors left campus earlier that day and had been drinking alcoholic beverages on the beach.
Termidor, 18, was among the group, witnesses said.
In addition, the report states two students told a detective that, prior to returning to campus for the seniors' last-day-of-class festivities at 2:15 p.m., some classmates had participated in "get-togethers" at their parents' homes, where alcoholic beverages were available.
One senior said Termidor attended at least one of those gatherings and, though he didn't see his classmate drinking there, he believed Termidor "might have been under the influence."
D'Angelo Lumenes, a senior who said he and Termidor jumped off the dock together, told a detective the two of them "were originally not going to participate" in the school's traditional rite of passage because they couldn't swim, but they ultimately decided to join their classmates.
The jump began at about 3 p.m., and witnesses said Termidor and Lumenes were among the last of the seniors to leave the dock.
Lumenes, who struggled so noticeably in the water that a classmate swam over and helped him get back to the dock, said he saw Termidor "splashing around," the report states.
One detective reported that he spoke with several students and parents, and "multiple people stated they had been told or personally knew" Termidor was unable to swim.
The detective wrote he was told Termidor previously "had to wear a life jacket to stay afloat" during a swimming exercise at the school – which explains why, realizing he was in trouble, the senior became so terrified that he tried to grab onto two girls who were within his reach in the water.
One of the girls told a detective she jumped off the dock after Termidor and, once in the water, he started "pulling on her" and "pulling her under the water," forcing her to push him away, the report states.
The other girl said Termidor was "trying to hang on to her" and that she saw him trying to grab onto other students, too, before he briefly treaded water and went under for the final time.
Students immediately began searching the lagoon's murky bottom, where one of them found Termidor – not far from where his gold hat was floating – and raised him to the surface. Another classmate helped pull the body to the dock.
Efforts to resuscitate Termidor began immediately and continued until paramedics arrived. He was taken to Cleveland Clinic Indian River Hospital, where he was later pronounced dead.
According to previous witness statements, Termidor was submerged in 6 to 12 feet of water for as long as 20 minutes.
The autopsy performed by 19th Circuit Chief Medical Examiner Patricia Aronica ruled the drowning an "accident," and she said she was unable to determine whether the alcohol and tetrahydrocannabinol (THC) in Termidor's blood were factors that contributed to his death.
According to the toxicology report included in the autopsy, Termidor had a blood-alcohol content of .083, just above the state's .08 limit to drive legally.
St. Edward's Communications Director Monica Jennings attended the jump and was video-recording the event from 40 feet away in a boat manned by William Stribling Jr., the report states.
Stribling told a detective he saw Termidor "throwing his hands up in the air and struggling in the water," and then watched him "go under" with several students near him. He said he started to drive the boat towards Termidor, but he could get only so close without risking injury to other students in the water.
Jennings gave her video to detectives.
Detectives also interviewed St. Edward's Head of School Stuart Hirstein, who was hired on July 1, 2020, and, according to the report, said the tradition of seniors jumping off the campus dock has been a school-sanctioned activity since 2007.
He said he wasn't made aware of the tradition until a month before the event and didn't supervise it, but he was in attendance – along with other school officials and parents – for the jump in April.
Hirstein said he knew Termidor but didn't see him jump. He said he didn't know anything had gone wrong until he observed a commotion on the dock and heard someone shout, "I can't find BT."
He told detectives he acquired a phone number for Termidor's mother and informed her that her son was involved in an accident and had been transported to the hospital's emergency room.
Stephen Fenning, the school's aquatics director since January 2016, wasn't interviewed until Aug. 26, when he told detectives he attended the jump – he stood on the beach area adjacent to the dock – but had no specific responsibilities during the event.
The reports states that Fenning said he "was not asked by anyone to watch over the students as they jumped in" and that there weren't life-saving devices on the dock "due to theft."
Neither Jennings nor local attorney Will Murphy, who is representing the school, returned messages left on their cellphone voice-mail Saturday.
Termidor's family could not be reached for comment on the Sheriff's Office report, but it already has sent a letter notifying the St. Edward's board of trustees that it has retained an attorney with the intention of filing a wrongful death claim against the school.
Termidor was a beloved, two-sport athlete who was about to graduate with honors and continue his education at the University of North Florida on an academic scholarship.