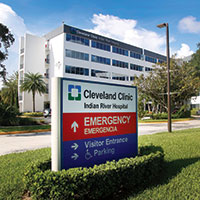 Trial in malpractice suit postponed until February
STORY BY MICHELLE GENZ (Week of September 16, 2021)

What may well be the largest medical malpractice suit ever tried in Vero was continued until February, after 19th Circuit Judge Janet Croom gave defendant Indian River Medical Center, now Cleveland Clinic Indian River Hospital, more time to find a new expert witness.
Plaintiffs' attorney David Carter says more than $100 million in damages may be at stake in the trial, an amount the lead attorney for Indian River, June Hoffman, said could "bankrupt" the hospital.
Hoffman earlier had asked for postponement of a jury trial because of Covid –  a motion Croom had denied –  but she granted a continuance after being informed that a separate settlement with anesthesiologist Dr. Donnie Konovsky included the withdrawal of an expert witness that the hospital was also intending to use.
The suit involves a June 2017 incident for which the hospital has already admitted liability.
That event left 42-year-old Toshuua Hughes permanently and severely disabled in a state known as unresponsive wakefulness, after she failed to regain consciousness following a hysterectomy and stopped breathing.
The suit claims anesthesiologist Konovsky, formerly with Anesthesia of Indian River, as well as staff of the hospital, failed to adequately monitor and respond to Hughes' dangerously low oxygen levels, a condition that ultimately damaged her brain.
Hughes is now in a neurological care center in Sarasota, where her husband of more than two decades, Rodrick Phinizee, has visited so often, he has put "a couple hundred thousand miles" on the family car.
The first paperwork in the case – the plaintiffs' 22 pretrial discovery requests that the hospital never responded to – dates back to January 2018, one week before Indian River Medical Center voted to pursue a takeover by Cleveland Clinic Florida. Today, the file is thousands of pages long.
The file includes not only the actions of healthcare providers as Hughes left the operating room, but allegations of altered medical records that showed, among other things, a much shorter time frame that Hughes was without oxygen than was originally noted, according to a forensic examination of electronic health records requested by the plaintiffs.
Records also showed a Code Blue emergency was called when, in fact, "the button was never pushed," as the judge noted repeatedly in orders.
That failure to sound a Code Blue was finally revealed in a nurse's handwritten timeline, one of hundreds of pages of documents that the hospital failed to share with the plaintiff for more than a year after the evidence was requested.
"IRMC delayed by more than a year plaintiffs' receipt of 753 pages and counting of discoverable material and obstructed the administration of justice in this action," wrote the judge in an August 2020 order that lifted Florida's caps on medical malpractice cases.
"Today, because IRMC spent years hiding evidence, plaintiffs cannot bring many of the claims that would have otherwise been available to them," the judge wrote.
A second order, in April of this year, allowed the plaintiffs to ask a jury for punitive damages.
Before Judge Croom continued the trial, prospective jurors – all 200 of them – had received their summons and been advised that the trial would involve masks and social distancing. Any jurors who felt they could not comply with that policy would have been excused, Croom said.
At the same time, the hospital is battling its malpractice insurance company in U.S. District Court. That suit has brought to light through public record numerous issues that were formerly confidential, including the hospital's apparent legal strategy to admit liability and request arbitration, a move that often obviates the need to release damaging evidence. When plaintiffs refused the request for arbitration, the evidence began to surface.
As for the trial to be held here, courthouse workers had been adding extra plexiglass around the jury box to make a safe space for courtroom deputies to stand guard.
That added precaution, among others, followed last week's inspection of the courtroom layout by attorneys for both sides. During that tour, Cleveland Clinic Weston's chief medical officer, Dr. Scott Ross, who appeared at the hearing in a white lab coat, cited what he claimed was an incorrect method of measuring distance between jury chairs.
"It's supposed to be 6 feet from arm rest to closest arm rest," he insisted. Courthouse staff had placed the designated juror seats 6 feet away using the center of the seat back as the starting point. "This is only 42 inches," he declared, diligently sanitizing a measuring tape borrowed from the defense team.
He later asked the courthouse chief deputy whether the temperature check cut-off of 100 degrees was on the Fahrenheit scale, before outing "half the deputies" in the courthouse lobby for wearing their masks under their noses.
Before the February continuance was granted, Carter had said: "It has been more than four years since the hospital catastrophically injured Toshuua Hughes. We wanted to do everything in our power to keep our trial date in October."