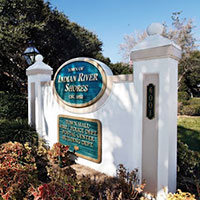 Two apply for seat on Shores Town Council
STORY BY LISA ZAHNER (Week of September 16, 2021)

Next week the Indian River Shores Town Council will choose one of two men who applied to fill a seat on the town council left open after John McCord resigned last month.
McCord only served 10 months of his four-year term, so the person selected by the remaining four members will serve until November 2024.
One applicant is a John's Island resident, a well-qualified corporate attorney but a newcomer to town politics. The other is a highly regarded former vice mayor who, while serving four years on council from 2016 to 2020 and as the town's representative on the Vero Beach Utilities Commission, immersed himself in the town's finances and in the Shores' complex utility issues with Vero and Indian River County.
Former vice mayor Bob Auwaerter, an Ocean Colony resident, did not run for re-election to the Shores Town Council because he ran in the Republican primary for the Board of County Commissioners seat won by former Vero mayor Laura Moss. Auwaerter replaced Vice Mayor Jerry Weick, a Bermuda Bay resident, when he joined the council in 2016.
Auwaerter is a graduate of the Wharton School of the University of Pennsylvania and Northwestern University. A native of Philadelphia, Auwaerter managed a global team of 120 people and $750 billion in assets for the Vanguard Group before retiring and moving to Indian River Shores in 2014.
"My service to the community and my list of accomplishments speak for themselves," Auwaerter said on Monday after the deadline for applications closed at 5 p.m. 
The newcomer to town politics is a three-year John's Island resident, Thomas Tamoney. A graduate of Trinity College and the George Washington University Law Center, Tamoney had a 30-year career with PepsiCo on four continents, including six years as Senior Vice President and Deputy General Counsel of the global corporation.
Tamoney was not available for comment at press time but said on his application, "I believe my experience as a lawyer could provide valuable input on a wide range of issues facing Indian River Shores."
Having these two men apply for the same open seat has put former mayor Brian Barefoot in a tough spot. Auwaerter applied early and asked Barefoot for his blessing before listing him as a reference. Tamoney, a 25-year friend of Barefoot going back to the days when the two served on a homeowners association together at ski country homes in Vermont, applied for the post and surprised Barefoot with the news after he submitted the paperwork.
"I'm glad I don't have to be the one making the decision, both are high-quality candidates who would do a great job," Barefoot said. "Tom is one of my better friends from Vermont, we met in the late 1990s. I had encouraged Tom to get involved in something but I didn't know he was going to apply for town council. Bob's knowledge of the issues is incredible and he's the one you want on your side in a fight like we're in."
Barefoot said Auwaerter's advantage is that he has close knowledge of the immediate issues the town is involved in right now, and that he's continued to serve the town in an advisory capacity after leaving council. But Tamoney, he said, has the right qualities and the legal and business experience to learn quickly. "Either one of them would make good decision for the future of the town," Barefoot said.