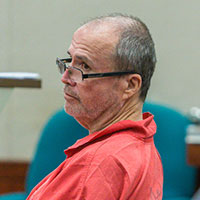 After 6 years, prosecutor asks judge to set 'date certain' for trial of Asbury Lee Perkins
STORY BY LISA ZAHNER (Week of April 7, 2022)
Photo of Ashbury Perkins in court.

Assistant State Attorney Bill Long has asked Circuit Judge Dan Vaughn for a "date certain" when former South Beach resident Asbury Lee Perkins finally will be tried for the premeditated murder of his estranged wife and business partner Cynthia Betts.
Perkins, 64, was arrested on Nov. 4, 2015, and initially was represented by a court-appointed public defender, but then decided to represent himself. Perkins has dismissed numerous attorneys appointed over the years to help him prepare the case – citing disagreement over defense strategy among the reasons.
Court documents indicate Perkins' defense will hinge on convincing the jury that decades of false accusations and police reports against him by 63-year-old Betts and her father caused a downward spiral in his life, including heavy drinking, repeated arrests and financial ruin. Then on the evening of Nov. 2, he snapped and shot Betts in the bedroom of the Seagrape Drive home they once shared.
Via a series of hand-written legal pleadings, and pressure from appeals to the Fourth District Court of Appeals, Perkins obtained permission to hire experts to investigate the couple's history leading up to Betts' death, and to prepare evidence and visual aids for trial, including a digital reconstruction of the crime scene, blood-spatter analysis, and DNA and fingerprint processing of the firearm and shell casings.
It's been five months since Vaughn signed off on the experts for Perkins, so Long wants to rein things in before the case drags on into a seventh year.
"During the pendency of this matter, the Defendant has received fifty-three continuances," Long wrote in a motion asking Vaughn for a scheduling conference to put the parties on deadlines.
Perkins has unsuccessfully tried to get Vaughn kicked off his case due to delays in issuing the orders he requested, but thus far, the appeals court has denied all of Perkins' requests.  So it appears Vaughn will decide how long Perkins has to wrap up his trial preparation.
Nothing has happened in the case since December. A scheduling conference could hold both sides accountable for providing discovery and deposing all of the potential witnesses – who at this point are recalling events from more than six years ago.
Long took over prosecuting the case in 2021 from Assistant State Attorney Christopher Taylor, who has been out on medical leave.
"The State of Florida anticipates that at trial, testimony will be provided by a number of witnesses, to include: civilians; law enforcement officers; medical personnel; and, various expert witnesses," Long said in his motion for a trial date.
Though Perkins is one of the longest pending felony cases in the Indian River County court system, the entire felony caseload is seriously backlogged after jury trials ceased for seven months.  Court operations have struggled to catch up, while juggling defendants, witnesses and attorneys who have been sick or in quarantine.
"The State of Florida acknowledges the aforementioned COVID-19 pandemic has affected every legal matter currently pending before this Honorable Court and is partially responsible for some of the continuances of this matter. That said, this matter is six years, four months, and eight days old as of the date of this filing, and needs to be resolved," Long's motion concluded.