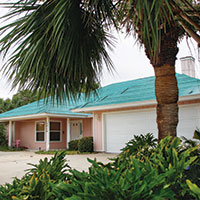 Neighbors want Castaway Cove home condemned for code violations
STORY BY STEVEN M. THOMAS (Week of April 7, 2022)

A group of neighbors in the Wave VI neighborhood of Castaway Cove on South Beach are circulating a petition to have a house on Spanish Lace Lane condemned due to persistent code violations stretching back at least five years.
The petition is just one in a long series of efforts by residents, the Wave VI Home Owners Association (HOA), and city and county officials to force the owner of the property at 1215 Spanish Lace Lane to repair the home or tear it down.
The house, which has belonged to the same family since it was built in 1988, has lacked a finished roof for three years – no shingles, tiles or metal, just a fading layer of blue peel and stick underlayment – according to neighbors and city officials.
Until recently, there were sections of rotted exterior wall, holes in the roof and collapsing interior ceilings, with drywall and insulation hanging down, according to a county report.
"This is a beautiful neighborhood and that house doesn't belong here," said Angelique Padulo, who lives across the street from 1215 Spanish Lace Lane and is involved in the petition effort. "There hasn't been a roof on it since we moved here in 2020."
Padulo and other neighbors said that when they complain to the city and county, they have been told to be patient. But their patience has run out.
"This eyesore and health hazard is now depreciating our home values," Padulo wrote in a March 13 letter to Mayor Robert Brackett and the city council.
Suzanne Pirnie, who lives six doors down from the problem property and is involved in the petition effort, expressed the same concern: "I absolutely feel [the condition of the house] has been detrimental to our home values. It is the first thing you see when you pull down Spanish Lace Lane."
Building and development officials admit they have not been as aggressive as they might have been or used their full authority to enforce city and county codes and their own orders.
Vero Beach planning and development director Jason Jeffries told Vero Beach 32963 last week its possible "we trusted this person too much, that they would do the right thing."
But Jeffries said he had spoken with county building official Scott McAdam, and they have agreed they won't extend the active building permits at the house again. That red line is important because the permit for a roof expires on April 25.
"The owner has had different reasons for not moving forward," McAdam said last Wednesday. "But we are getting to a point where we wonder if we are getting fed baloney.
"The roof needs to show progress. We are not going to extend the permits again. If they expire, the city will take them to the city code board and that will be the resolution."
The code board has considerable power, and can impose fines of up to $500 a day, though a $100-a-day fine would be more likely. The county has the authority to condemn and tear the house down if it is not brought up to code, charging the cost to the homeowner.
County records show the unoccupied house belongs to Dorothy M. Lucey and Maureen J. Lucey. Dorothy Lucey and her husband John J. Lucey purchased the lot at 1215 Spanish Lace Lane in 1987, when there were only a handful of homes in the new community, and had the 3,000-square-foot, three-bedroom, three-bath house built the following year.
They lived in the home together for 18 years, until John Lucey's death in 2006. Ownership of the home was transferred by Dorothy Lucey to the Dorothy M. Lucey Living Estate in 2009, with her daughter Maureen as co-owner, set to inherit the property upon the death of her mother.
Building officials say Maureen has been managing the home repair process.
Pretty much everyone involved, including Doug Leman, owner of Orchid Island Roofing, which has a contract to put a new roof on the Lucey house; McAdam at the county; Wave VI HOA president Garry Perkins; and several neighbors said Maureen lives out of state and is hard to contact.
Multiple efforts to reach her via phone and email to get a comment for this article were unsuccessful.
Current problems at the house began in 2017, according to Jeffries.
He said the house was first cited in March of that year for "collapsing roof" and rotted soffits and facia.
"They fixed it to some degree, so the code inspector passed it, but it was a patch job and the problems reoccurred," Jeffries said.
The city got new complaints in 2018 about tarps on the roof where repairs had failed, and cited the home again.
In 2019, the Luceys applied for a reroof permit, which seemed like progress, and the city closed the code enforcement case. But a year later, the HOA again complained to the city about the exposed roof and the case was reopened.
The Luceys asked for more time, citing covid difficulties, and a second reroof permit was issued in July 2020.  That permit expired in January 2021 with the roof still not finished and partially open to the weather.
Complaints continued and in April 2021, Indian River County building inspector Shawn Doutrich visited the property.
The next day, on April 22, 2021, the county building division issued a Notice of Violation, stating that the home was "an unsafe structure" and requiring the homeowner to either tear the house down within 60 days or complete all repairs within 180 days.
Last summer, the Luceys got a third re-roof permit from the county and contracted with Orchid Island Roofing to install a new roof.  Eight months later, the decaying underlayment is still exposed, with no finish roofing installed.
"We told her when we signed the contract that the structural repairs had to be complete before we could start," Leman said Monday. "We reached out to her many times [and extended the roofing permit twice] but she seldom answers her phone."
McAdam said structural repair work was finally undertaken in January and February when a local construction company pulled permits, replaced failed truss sections, and put new sheathing on rotted sections of the roof and exterior walls, closing the house to the elements. 
He said the construction company informed him the structural repairs are ready for inspection but that they had not been able to coordinate with Maureen Lucey to allow the inspections.
McAdam finally reached Lucey last week and told her the house was ready for inspection. Meanwhile, Leman also managed to get in touch with Lucey last week and told her that reroof work could begin  – but that material prices had increased since the contract was written.
"I sent her the revised pricing and we are waiting to hear back from her if she is OK with the new cost," Leman said.
Both McAdam and Jeffries said they understand residents' unhappiness.
"If I lived in that neighborhood, I would be upset too," McAdam said.  "They are probably thinking, 'Why did I move down here and spend all that money for a beautiful home in my dream area near the beach when I've got this eyesore right on the corner?
"But government processes move slowly," McAdam said. "We need to give them the opportunity to complete the work for which they have permits."
And he added:  "We have a close eye on it at this point and if the permits expire, that's it."