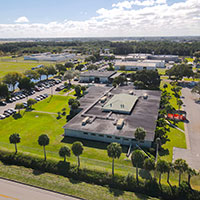 TCCH appears set to take over nursing at jail
STORY BY RAY MCNULTY (Week of April 7, 2022)

The Sheriff's Office is in negotiations with Treasure Coast Community Health to takeover the healthcare of inmates at the Indian River County Jail on a long-term basis, both parties have confirmed.
TCCH would provide 17 registered nurses (RNs) and licensed practical nurses (LPNs) – two more than sources said previously were on the Sheriff's Office staff – to care for a jail population that often exceeds 500 inmates, according to Colette Heid, community relations director for the local nonprofit.
As the week began, no contract had been signed, but Sheriff's Office spokesperson Debbie Carson said "conversations are taking place."
TCCH, which primarily serves people who have limited access to healthcare, has been providing medical service at the jail on a month-to-month basis since last May, according to Heid.
Subsequently, Heid said, the Sheriff's Office approached TCCH with an eye to outsourcing medical services at the jail permanently. If the parties can agree on a contract, TCCH would become one of the first such nonprofit organizations to "venture into jail services," she added.
"Inmates have a constitutional right to get health care, but you typically see for-profit groups come in to provide it," Heid said. "This is based on a new model."
According to Heid, TCCH is not yet providing dental or behavioral-health services to inmates, but plans for it to do so are being discussed.
Sources familiar with the negotiations said the Sheriff's Office put out a request for proposals and received at least two others before choosing TCCH because of the quality of its services and local access to healthcare resources.
Carson didn't say what prompted the Sheriff's Office to explore outsourcing its medical services at the jail, but sources said the goal is to improve care without any significant increase in costs.
By contracting with TCCH, the Sheriff's Office would no longer need to employ its own healthcare professionals, including a nursing staff.
Many of the Sheriff's Office's nurses resigned and joined the TCCH staff, Heid said, "so no one really lost their job."
TCCH announced on its website on March 9 that it had signed a letter-of-intent with the Sheriff's Office to "establish a long-term contract to provide quality, comprehensive services" to the jail population.
In the announcement, TCCH stated its administrators would work with existing jail employees to ensure a "seamless transition" in the medical services provided to inmates.
Heid said she couldn't predict how soon a contract would be signed.
"Providing medical services at a jail is a very involved process, and there are a lot standards that need to be adhered to," she said. "Regardless of how long it takes to get a contract, our mission remains the same – to provide the best quality care we can."