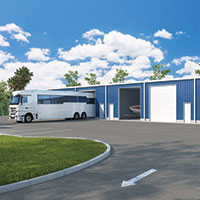 Another luxury storage complex – for classic cars, big RVs, large boats – coming toVero
STORY BY STEVEN M. THOMAS (Week of April 21, 2022)

The Vero Beach luxury storage craze roars on.
Goundbreaking is planned for June for Fortified Storage, a new 15-unit, hurricane-ready luxury project which will have the largest storage units yet – each with 1,500 square feet of versatile, customizable space, and seven already reserved at pre-construction prices ranging from $269,000 to $299,000.
"This is literally the definition of fast track," said builder and developer Joe Foglia, who expects the metal buildings, which will surpass Florida wind resistance requirements, to be complete by the end of the year.
Fortrified Storage is the fourth luxury storage project in the Vero in the past several years, which together have brought or are bringing more than 160 units to market.
All have been co-developed by engineers at Schulke, Bittle and Stoddard and sales have popped at an exhilarating pace, as buyers, mostly from the island, snap up units to store valuable possessions, create luxe hangout spots and bolster their balance sheets with rapidly appreciating real estate assets.
Autohaus sold out four months after completion and the next project, Indian River Motorhaus, developed by Joseph Schulke and builder Vic Lombardi, sold out before it was built.
Schulke and Lombardi are now developing another project, Indian River Motorhaus II, which was half sold before any dirt was turned, and now almost half of the units at Fortrified Storage have been spoken for prior to site plan approval.
The project got off to a serendipitous start.
The same week Foglia and his partners – Jodah Bittle and Bill Stoddard, engineers at Schulke, Bittle and Stoddard – first brainstormed about doing a project together, an ideal 1.6-acre parcel suddenly became available.
"The idea was mentioned, and I looked online, and this parcel I had been watching just happened to come on the market," said Stoddard. "It was fortunate timing and we had it under contract within two or three days," with a period for due diligence before closing.
Wasting no time, Bittle, a master of site plan engineering, quickly investigated the property, digging into the county plat book and pouring over surveys to make sure the partners could fit enough 60-foot by 25-foot units on the site to make the development worthwhile.
When he knew the land was suitable, Bittle prepared a preliminary site plan and submitted it to the county.
"We have been through the pre-app conference and the county's technical review committee," said Bittle. "We had just minor comments on our plans, which have been revised and resubmitted. We expect to have site plan approval in the next couple of weeks and break ground in June."
Working on a parallel track, Stoddard oversaw design of the buildings in conjunction with Florida Pre-Fab in Tampa, a family-owned company that has been designing and fabricating an impressive array of metal buildings – from large industrial structures to airplane hangars to churches – for 50 years.
"Metal building companies do their own engineering," said Foglia, who is known to 32963 residents as the builder of several of the biggest oceanfront homes on the island and who is the project general contractor. "They worked with Bill on the foundation design and any intricate details specific to this site."
"Florida Pre-Fab designs the building and calculates the reaction loads," said Stoddard. "I take their information, design the foundation system, and become the engineer of record for the whole project. I review and stamp their plans and submit them to the county.
"We engineered these buildings to withstand 170-mile-an-hour winds, which exceeds code requirements."
The partners closed on the parcel on March 7, paying $487,900 for three lots in the Olde South Commercial Park Subdivision on Dixie Highway between 4th Street and Oslo Road.
"Finding the right piece of property is the hardest part," said Bittle. "This property was already zoned for what we are building and already had a road and all the utilities, so very little site work was needed."
In the current busy building environment, many projects are slow to get going and even slower to finish, in part because essential professionals – surveyors and architects, engineers and builders – are swamped with work and booked months ahead of time in many cases.
Fortified Storage was able to get on the fast track because the land was already prepped for building and the developers also happen to be the key players needed to plan and execute commercial construction.
"We have a big advantage in terms of speed and budget, since we are engineers and builders," said Bittle. "A guy coming in off the street couldn't come close to doing this for the cost and in the timeframe that we can."
"It is hard to imagine it going any faster than it has," said Foglia.
Besides structural strength, a cool design and a convenient location on Old Dixie Highway four miles south of the 17th Street Bridge, unit size and ease of access are the project's top calling cards.
There is a turn lane on Old Dixie at the subdivision and it is a straight shot back to the storage building site – no twists or turns or low hanging trees – where a 70-foot-wide expanse of pavement between buildings makes it easy to maneuver big boats on trailers and the largest Class A recreational vehicles.
Unit doors are huge – 14-foot high by 14-foot wide – and there's LOTS of room inside.
"There is space for six cars, or a big RV and 3 cars, or a 35-foot center console boat and trailer with a couple of cars and a couple of motorcycles," said Bittle.
"A collector could actually fit 12 cars if lifts are installed," said Foglia.
The concept and design of Fortified Storage was influenced by Bittle and Stoddard's experience at Vero Beach Autohaus on 12th Street, the first luxury storage project in Vero, which they co-developed with other engineers in their firm and well-know island builder Vic Lombardi.
"As we sold Autohaus, we realized most of the units were too small for the largest vehicles," said Bittle. "We were constrained by the width of the lot and only four of the 37 units really worked for a larger boat or a big Class-A RV.
"That is why we did these – we know pretty much anything that is legally on the road will fit!"
The focus on size has paid off. Foglia said most reservations so far are with people who have RVs.
It might seem strange to pay $300,000 for a place to park a motor home, but the most luxurious Class-A recreational vehicles – which are typically 45 feet long – cost anywhere from a couple hundred thousand dollars to more than a million. In fact, according to Luxatic.com, the most expensive RV on the market rings up at a bracing $3 million.
"The Marchi Mobile EleMMent Palazzo is the most impressive and at the same time most expensive motorhome you could buy right now," the website reports.
If you have something like that, or even just a Country Coach Prevost, which "combines a wonderful aerodynamic aesthetic with a great deal of amenities and luxury to offer one of the best travel experiences around the world," and costs a mere $1 million, you don't want the vehicle broken into and vandalized or banged up by a tree falling on it in storm.
But until now it has been nearly impossible to find convenient, secure, enclosed storage for RVs that large. Most cities and HOAs don't allow RVs to be parked beside a house on a normal residential lot and existing storage facilities just aren't big enough.
"I was storing my RV in an outside lot," Bittle said. "I asked the lot owner what happens in a hurricane, and he said, "It's insured isn't it?'
"People don't want their equipment wrecked when a storm comes along. The first thing they say when a hurricane approaches is 'get off the island,' but where are you going to go?
"Having one of these units solves 90 percent of the problems. You can put your stuff in a safe place and take shelter here yourself instead of taking off for Georgia."
These storage units come pre-plumbed for half-baths and can be customized with completed bathrooms, air conditioning, epoxy floors, mezzanine levels and electric hookups for RVs, making them comfortable spots to ride out a storm or simply hang out with friends while drinking beer and turning wrenches.