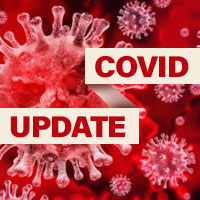 COVID-19 infections again rising here; hospitalizations also starting to increase
STORY BY LISA ZAHNER (Week of April 21, 2022)

As expected, the number of new COVID-19 infections here has begun to rise significantly, with 97 new cases reported to public health officials this week – up from 65 cases last week.
That 49 percent increase in the Centers for Disease Control and Prevention statistics does not include people who tested positive on rapid home test kits, as those cases are typically only reported if the patient seeks medical treatment.
The CDC estimates that about 86 percent of the new infections across the nation, and nearly 40 percent of the new infections in Florida right now are the result of the BA.2 variant sometimes referred to as "Stealth Omicron."
Over the past four weeks, the prevalence of Stealth Omicron nationwide, based upon genetic sequencing of samples, has climbed week after week from 39 percent to 54 percent to 72 percent, and now 85.9 percent.
States with the highest prevalence of the BA. 2 variant include many of the places the island's tourists and snowbirds hail from – New York, Connecticut, Massachusetts, New Jersey, Rhode Island, Maine, Pennsylvania, Virginia, New Hampshire, Maryland and Illinois. Washington, D.C. is also among the locales where the Stealth Omicron variant is running rampant.
That variant is thought to be 60 to 80 percent more transmissible than the BA.1 Omicron variant which caused record case numbers in January, but it's not yet known for certain if infection with the new variant is more or less likely to cause serious COVID-19 disease.
With so many unknowns, anyone age 50 and older – an age group considered at higher risk of serious complications from COVID-19 infection – is eligible to get a second booster, or fourth vaccine shot, according to federal guidelines. Florida is still in the "low" category for community transmission, according to the CDC, though the case positivity rate rose 11 percent this past week to just under 5 percent.
Rapid-testing before social events or before visits with elderly friends or relatives can also help slow the spread of the Stealth Omicron variant.
Island residents who have not already ordered two shipments of four free at-home COVID-19 rapid tests sent to their 32963 home address can do so through the U.S. Postal Service. The rapid-test kit instructions are fairly straightforward, and tests generally arrive in the mail within two to three days. Results are clearly readable in 20 minutes or less.
Hospitalizations of people who tested positive for the coronavirus also increased markedly here this week, but the numbers are still in the single digits and the percentage of staffed beds being used for COVID-19 treatment was still very low.
As of press time Monday, seven covid-positive patients were hospitalized, according to Cleveland Clinic Indian River Hospital spokesperson Arlene Allen-Mitchell. That's up 133 percent from last week's patient count of three. Fortunately, no covid-positive patients were in the intensive care unit this week.
Two covid-positive people have died in the past three weeks locally, bringing the Indian River County death toll to 652, with 82 of those deaths reported since Christmas.