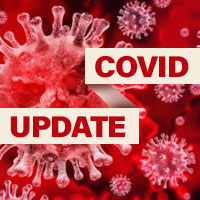 COVID hospitalizations again down, but infections edge up
STORY BY LISA ZAHNER (Week of April 14, 2022)

As a second round of COVID-19 vaccine booster shots became available to those age 50 and older, and the world closely monitors virus hot spots in Asia and Europe, new cases here edged up 10 percent last week, rising from 59 cases to 65 cases.
Hospitalizations of Covid-positive patients at Cleveland Clinic Indian River Hospital declined from four on April 4 to three at press time Monday. Even better news is "none are in the ICU," said hospital spokesperson Arlene Allen-Mitchell on Monday.
With more and more people are using convenient, do-it-yourself home COVID-19 test kits, the official testing numbers countywide declined 11 percent last week from the last report, according to the Centers for Disease Control and Prevention.
There are a few settings in which people who test positive for COVID-19 are more motivated to report their cases to health officials, such as in the schools, because kids and teachers get to take a few sick days at home.  But the Indian River School District's COVID-19 dashboard as of Monday was showing zero positive cases among students and zero positive cases among teachers.
Young or old, people are concerned about different aspects of contracting the covid virus. Those who feel they are less likely to become very sick or hospitalized may fear lost income from missed work, or being left out of important social and family events.
The island's elderly population – who are most vulnerable to falling seriously ill – may dread the idea of being isolated in a hospital room with no visitors, or not being able to have loved ones present if they are critically ill or dying because of hospital clamp-downs on visitors during the pandemic.
Beginning in March 2020, visitors were prohibited for nearly six months in most healthcare settings including nursing homes and assisted-living facilities, and most hospitals still strictly limit the number of people and frequency of visits.
But on April 6, Gov. Ron DeSantis signed into law the No Patient Left Alone Act which protects visitation rights for hospital patients and residents of long-term-care facilities.
"Here in Florida, we recognize that family and human connection is one of the most important aspects of physical, mental and emotional well-being and we are ensuring Floridians are never again denied the right to see their relatives and friends while in hospitals or nursing homes," DeSantis said.
The new law would prohibit hospitals, nursing homes and assisted living facilities from requiring visitors to show proof of COVID-19 vaccination to see their loved ones, and would allow patients to get a hug from visitors.
With regard to masks and other protective equipment or safety protocols, healthcare companies will need to formulate rules for visitors that cannot be more restrictive than what is required by hospital staff dealing with the patient being visited.
Under the new law, even during a pandemic, patients in certain circumstances must be allowed visitors. This applies to pediatric patients, women giving birth, patients who require encouragement to eat or drink, anyone in emotional distress or facing a major medical decision, as well as to terminal patients at the end of their lives.
Designated primary caregivers, under the new law, can have longer visits with patients of "at least two hours daily," the law states.
"Understanding firsthand the emotional toll of caring for my father during the pandemic, this bill is a necessity not only for patients, but also family members that desperately want to play an active and in-person role in their loved ones' care," said Lieutenant Governor Jeanette Nuñez.
DeSantis said he was grateful he could be at his wife Casey's side while she had chemotherapy treatments for breast cancer and that all Floridians should have the support they need when battling illness, recovering from an injury or receiving end-of-life care. The new law expands the Florida Patient's Bill of Rights, and took effect immediately upon signing.