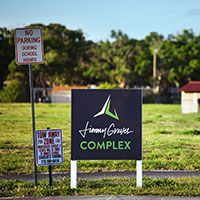 Graves family pleased by plans for sports and recreation complex
STORY BY RAY MCNULTY (Week of April 28, 2022)

The school district is doing what former City Councilman Joe Graves said couldn't be done – creating the public-private partnership needed to build a community sports and recreation complex on the 11.6-acre parcel across 16th Street from Vero Beach High School.
And, yes, he's surprised.
But he's also thrilled, knowing his vision for the property he donated to the school district could become a reality.
"What the school district has come up with is amazing," Graves said earlier this month, after the plan became public. "I couldn't be happier. It's an answered prayer."
Graves, a local attorney, bought the property from the county in 2017, hoping to build a youth sports complex in memory of his 15-year-old son, Jimmy, who died in a 2016 boating accident.
However, Graves was unable to attract enough public or private support to fund his effort and attempted to sell the property to a developer who wanted to build housing there.
Amid threats of legal action by the county, which said the land must be used for recreational purposes, Graves decided to donate the parcel to the School District last year – with one stipulation.
He insisted the sports facility built on the property would bear his son's name.
Thus, the school district's $7 million project will include a $3.8 million Jimmy Graves Sports Stadium, which will be built at the heart of the Vero Beach Community Complex and include a regulation-size running track and lacrosse/soccer field.
The school district wants to begin construction later this year, and it already has been promised half of the $4 million it hopes to raise by October.
The City Council gave its blessing to the $7 million project – which will include a community park, athletic field, playground, amphitheater and business center – by voting unanimously to contribute $1 million.
The Education Foundation of Indian River County also has committed $1 million to the cause and expects to raise more money by selling sponsorships for various parts of the facility.
Once the complex is built, Schools Superintendent David Moore said, the district would maintain the property and cover the costs of capital upkeep of the facilities.
"A school system is never going to be any stronger than the community it's in," Moore told the City Council after Cindy Emerson, the district's instructional innovation director, presented the plan.
"This is an opportunity to really provide a space that we fully commit to keep open from sunrise to sunset in service of the community – a space where families can come together, parents can meet teachers, and parents can socialize with fellow community members," he added. "It really is the heartbeat of the community."
City Council members enthusiastically embraced the plan, which Mayor Robbie Brackett called a "very important project," adding, "It's a chance to do what the public wants us to do, and that is to create parks and green space."
City Councilman John Cotugno went a step further, saying the project "touches all the bases" and that seeing it completed would be the "highlight" of his term.
"This," City Councilwoman Honey Minuse added, "is just huge for our future generations."
In addition to the sports stadium, where the regulation-size, eight-lane track would allow Vero Beach High School to play host to Florida High School Athletic Association-sanctioned meets for the first time, the plan includes:
•• A 5,000-square-foot, "fully inclusive" playground accessible to children with disabilities, including those in wheelchairs, and with a shock-absorbing surface. The $280,000 facility would feature six different swings, a merry-go-round, sun shades and music.
•• A $2 million Student Entrepreneurial Center that provides space for entrepreneurial students to market merchandise and sell products, and includes an alternative location for a student-run coffee shop. The facility also would include a 3,000-square-foot open meeting space, an open-air market, student art gallery and office space for community partnerships and innovation lab.
•• A 100,000-square-foot amphitheater for concerts and other events. The $90,000 facility would offer state-of-the-art portable sound capabilities and portable projection screen with high-output video projector, and it could be rented for community and nonprofit events.
The complex also would include a $200,000, half-mile community walking path equipped with overhead lighting and lined with displays that recall historical events that helped shape Vero Beach.
"We really do see this property as a unifier in our community," Emerson said, "bringing people together and focusing on the values we believe in so greatly at the district."
Graves did, too.
His vision for the property wasn't as elaborate or extensive, but he believed Vero Beach needed a youth-sports and recreation complex that was open to the community and could bring people together.
"I beat my head against the wall, but nobody wanted anything to do with the field and I couldn't get any traction," Graves said. "Getting the school district behind it really made the difference.
"People see there's a need for something like this here, and this is a very generous community, so I'm excited about it," he added. "This is going to happen, and now I'm just trying to be a cheerleader."