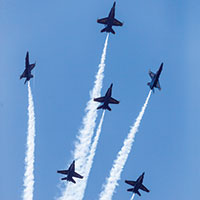 Here come the Blue Angels!
STORY BY CAROLYN SCHILLER (Week of April 21, 2022)

The Vero Beach Air Show next weekend is expected to be the climax of a booming local tourist season, attracting tens of thousands of aviation enthusiasts to the Vero Beach Regional Airport to see the U.S. Navy's famous Blue Angels plus an impressive, three-day lineup of attractions.
Normally the show happens every two years, but the 2020 show was cancelled due to pandemic restrictions on large gatherings, so anticipation for this year's show has been building for quite some time. All tickets purchased for the 2020 show will be honored this year, according to show sponsors.
"We are very excited to have the air show back in Vero Beach, and expect to have between 20,000 to 30,000 attendees each day of the Air Show.  The show is a wonderful event and helps instill pride in our nation's accomplishments," said Robert Paugh, President of the Vero Beach Air Show. 
Spectators will see the Blue Angels Demonstration Team roar overhead with their new F-18 Super Hornets.  Added to the April 29 through May 1 schedule this year is a Friday night event which is a first for the Air Show. 
Paugh said that attendees of past shows have descended on Vero from all over Florida, from across the country and even from overseas – with approximately 30 percent of the exhibitors coming from outside Indian River County, further increasing money spent in local hotels, restaurants, and other businesses.
The streets and beaches of Vero have been busy all spring, according to the island's hoteliers and restauranteurs. The Air Show was only one of a number of special events that filled the April calendar, which also included the Antique and Exotic Car and Boat Show at the Moorings Club, and the Vero Beach Annual Orchid Society Show.
Chad Olson, General Manager, Costa d'Este Beach Resort & Spa said the hotel was near or at capacity for the weekend of the Air Show. 
Ocean Grill owner Charley Repolgle said the Vero Beach Air Show "is one spectacular show – a one-of-a-kind experience and we should make every effort to keep it here in Vero." 
"People come from all over to watch it," added Ellen Lane, co-owner of the Riverside Café.
More information and tickets can be found at www.veroairshow.com.