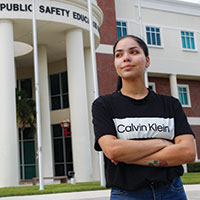 Island house cleaner hopes to trade bucket for badge
STORY BY NANCY SAPEY (Week of April 14, 2022)
Photo of Frances Marie Ramirez Camacho.

Frances Marie Ramirez Camacho has paid her dues, cleaning barrier island homes for three years.  Now, she aims to clean the county's streets of crime.
The 19-year-old dropped out of Vero Beach High School at 16 to work as a house cleaner to support her family when her mother became seriously ill and was unable to work.
Since then, she's earned her high school diploma, and has been accepted into the Indian River State College Criminal Justice Institute – the fulfillment of a dream to become a police officer.
Camacho will be one of 28 cadets to start classes April 18. While completing the six-month program, she'll continue to help her mom, Jennifer Camacho, with the family business, Surfside Cleaning Solutions, cleaning homes to pay her $4,000 tuition and other expenses.
Advancing to the police academy was no ordinary accomplishment as Camacho has struggled with school since childhood. Born in Puerto Rico, English is her second language, and she moved with her mother several times before settling in Vero Beach to be near her maternal grandmother. Adjusting to different school systems, learning English and trying to fit in was a challenge.
Dropping out of school to work was a tough choice, but really Frances' only option. When her mom recuperated, Camacho knew she wanted a different career and that motivated her to earn her diploma online through Smart Horizons Career Online High School.
"I did the classes at night on my computer and in the day, during work breaks, I used my cell," she said.
When Camacho received her diploma, she hosted a thank-you dinner for the people who helped her, treating them to a celebratory meal. Her tutor from Aspire Educational Services, Alma Moseley Ware, was one of the guests.
"Frances Camacho was dedicated to getting her high school diploma. She wants to be a police officer and she works tirelessly to reach her goal," Ware said.
And what inspired her to apply to the police academy? Camacho said her father, who died when she was 9, was a corrections officer in Puerto Rico, so she always admired law enforcement.
Asked how she would defend herself as a petite woman and be able to command authority in an emergency situation, she said she's determined to get the training she needs to be effective.
"The police academy teaches basic personal defense. I will take extra classes such as boxing and jujutsu at local gyms. Boxing teaches you to punch someone but the good thing about it is that you get punched too. You feel what it's like," she said.
Upon completion of her classes, Camacho will take an exam for state certification and once she passes, she can apply for a sworn position at any of the area agencies – and give up cleaning houses for good.