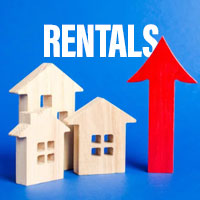 Longtime renters being priced out by soaring rates
STORY BY STEVEN M. THOMAS (Week of April 14, 2022)

Rental rates on the island have surged so high so fast that many longtime Vero snowbirds were priced out of paradise this season, or forced to drastically alter their travel plans in order to get a place.
"A number of repeat Vero Beach renters, people who have been coming here since I was a child, were unable to secure a rental this year as they have in the past," said Angela Waldrop, who runs the property rental division at Dale Sorensen Real Estate.
"Some were able to find a place, eventually, but only on different terms. They could no longer do the month of February alone or a six-week rental as they may have done for decades.
"To rent this past season, you had to rent for three plus months.
"Sadly, many others were unable to secure rentals on the island at all, due to the enormous price increases that have occurred over the past two years. Many of these prospective renters ended up in West Vero," or in nearby communities where prices are more affordable than on the island.
ONE Sotheby's broker-associate Carol Makolin, who manages 65 rental properties on the island and mainland, said she, too, has had to turn away some seasonal renters this year due to "extremely low inventory" and high demand.
Rental agents say the almost desperate desire of people to spend the winter here is creating a pressure that will expand the high season in coming years as snowbirds fill the town for five or six months instead of just three or four.
"Vero's season has always been January to April, but November and December are going to be a bigger part of our season going forward," said Waldrop.
If that happens, Vero will be in good company, following in the sandy footsteps of Palm Beach, where snowbirds "are leaving later and returning earlier than ever before ... gradually annexing Thanksgiving and the month before Memorial Day" into the high season, according to a recent report in the Palm Beach Post.
Besides staying longer, Vero visitors are coming from new places, with a stream of renters from California and Colorado joining the annual influx from Canada, the Northeast and the Midwest, filling restaurants and shops as well as rental condos and houses, pushing prices higher.
Much higher.
Makolin told Vero Beach 32963 in an email that island rental rates are up anywhere from 30 percent to 70 percent, year over year, depending on the location and type of property.
Rents of $25,000 per month are common and Waldrop said she has rented properties for as much as $50,000 a month and $300,000 a year – for a 3-bedroom, 2 ½-bath house.
As in the housing market, oceanfront properties have led the rental price ascent, doubling over the past two years in some cases.
Waldrop said she has a client who rented the same oceanfront property during season in 2021 and 2022. They paid $16,000 a month in 2021, $20,000 a month in 2022, "and they have already secured the same home for 2023 for $30,000 a month."
But sticker shock is not confined to the oceanfront.
"I have a Central Beach home that rented for $9,000 per month in 2020, $12,000 per month in 2021, and $15,000 per month in 2022," Waldrop said. "There has been a 25-to-35-percent increase in non- waterfront, [year over year], with rents up 40 to 50 percent over the past two years."
"We are seeing record prices across the board," said Allison McGraw, rental manager at The Moorings Realty Sales Co., who manages 70 properties in the country club community with seasonal rates as high as $25,000 per month.
"We've been busier than ever," McGraw added. "We were fully booked [going into season] and when we did have last-minute cancellations, we were able to rebook."
In one sense, explaining the shortage of rental inventory and corresponding high prices in 32963 is simple – an ever-increasing number of people want to live or vacation in Vero Beach, and the supply of rental housing is not keeping up.
At the same time, the explanation is more complicated, with multiple factors shaping the basic dynamic.
Waldrop said she is seeing an increase in six-month stays, with tenants from high-tax states occupying properties longer in order to establish residency in Florida, where there is no state income tax.
Bob Gibb, broker at John's Island Real Estate, said residents who might in the past have traveled part of the year are spending more time at their JI residences since the onset of covid, reducing rental opportunities. At the same time, other island residents who rented their homes previously now don't want to because of lingering covid fear.
Some investors who owned rental properties in 32963 have sold them to capitalize on high home prices, cutting into the number of available rentals, while others who sold their primary residence for the same reason are now renting, or trying to rent, while they search for or build a new home.
New families are arriving as Cleveland Clinic continues to hire doctors, while others – thinking about relocating to Vero as the town's cachet  continues to increase – are snapping up year-round rentals to try on the island lifestyle before making a purchase, further crowding the marketplace.
Waldrop said, as of Friday, there were only five unfurnished houses on the entire island where a year-round resident could move in their furniture and settle down.
The least expensive was listed at $4,500 per month on an annual basis, with a big jump to the next lowest priced rental, offered at $6,500. A third house was offered for $8,900, and other two were both priced at $25,000 a month.
"We have lost a number of properties for the 2023 season due to selling or owners retiring and wanting to use the property themselves," said McGraw.
Despite all the factors constraining inventory, though, Waldrop said other forces are acting to increase supply and that, on balance, there are more properties for rent this season than last – just not enough for everyone who wants to be here.
"There has been an increase in people leaving their residences for the season to capitalize on the high rental rates," she said, adding that she also sees more out-of-town buyers purchasing prior to retirement so as not to be priced out of the island market and then listing their home for rent.
With renters willing to pay gold-rush prices, "some owners are deciding to rent their primary residence and stay with a neighbor or family member to cash in on the high rents and shortage of properties," said Makolin.
But those new sources of supply have not been enough to keep up with demand this season, and island rental agents say it will be even tougher to find a rental next season.
"This season was very competitive, and prices were high, but I predict that it will be even more difficult to secure a rental in 2023," Waldrop said.
She noted that many renters "are far more panicked to secure a rental for next year" because they weren't able to get what they were accustomed to this year, such as a rental with a club membership, waterfront views, a pool, or one that was pet friendly. 
"I am 80 percent booked for next season already," Makolin said. "Also, a lot of the seasonal rentals have been rented on an annual basis so seasonal inventory will be lower next season. In fact it already is."
One bright spot in the rental market is the increase in revenue for property owners, and Waldrop said there has never been a better time to offer a house or condo for rent.
"This is a fabulous opportunity for people to consider renting their homes for the first time, even if just for a month or two," she said, noting that she handles "everything from professional photos to the move-out inspection and everything in between, including any tenant calls while in residence so that the landlord can relax wherever they are."
Even if homeowners only want to rent for a short time, Waldrop said it could be well worth their while, with a one-month rental in February or March covering their taxes and insurance for the year.
Island agents said it was nearly impossible to get a one-month rental this season, which gives property owners that much more leverage if they want to rent their home for a short period next season, allowing them to set the terms and price they want and still snag an eager tenant.