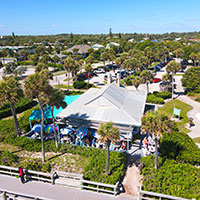 Next Friday will be end of an era for Jaycee Park's Seaside Grill
STORY BY SAMANTHA ROHLFING BAITA (Week of April 14, 2022)

Next Friday, April 22, will be a bittersweet day for the scores of regulars who have come to consider the Seaside Grill a home away from home, and who think of operators Dan and Rose Culumber and their staff as family.
After a terrific three-decade run, the Seaside Grill's doors will close for good, says Dan Culumber. The City of Vero Beach is working on choosing a new operator of the Jaycee Park concession, but the successor has yet to be named.
The hugely popular, sand-in-your-shoes "great little breakfast-and-lunch restaurant" overlooking the beach – when it ultimately reopens in some new incarnation – will no longer be under the management of the Culumbers and their longtime staff.
Patrons for at least a time will miss enjoying the sunrise over the ocean with a steaming coffee and a stack of warm, soft, buttermilk pancakes, dripping with real maple syrup; or watching beachgoers playing in the surf, or seagulls diving for snacks, while tucking into a grilled chicken or fish sandwich with a side of homemade coleslaw.
"Eighteen hours a day, seven days a week for 30 years is enough," says Dan Culumber, who, with wife Rose, has operated the Jaycee Beach icon under a lease with the city since April 1992.
Last year, shortly after the Culumbers informed the city and the grill's loyal customers of the decision to close and word spread, a steady stream of friends and fans  pleaded with the couple to reconsider, but to no avail. On Jan. 13, city staff put out an RFP seeking a tenant interested in entering into a long-term lease for the well-located business. 
According to Vero Beach Purchasing Manager John O'Brien, by the March 10 due date, the city had received seven proposals. The initial bid list – M and M,  Florida Juice, Zachariah Campion, Oceanside Restaurant Group, George Hart, Mulligan's and GC Ventures – has now been reviewed and short-listed to four by the city's Evaluation Committee, O'Brien said.
According to City Clerk Tammy Bursick, interviews with four who made the short list were to be conducted by the Committee today, April 14. Although the item has not yet been placed on the City Council agenda, City Manager Monte Falls said he expects it will come before the City Council on May 17.
As to what the city is looking for, Falls explains that use of the current 2,500-square-foot building, ever since it existed as the Seaburger, has been defined by the city code as more of a concession, rather than a full blown, much larger, restaurant operation.
But while Seaside Grill was open for breakfast and lunch and closed in mid-afternoon, "we'd like to see (it stay open) maybe later in the evening, maybe for a light meal," Falls said.  He said that would be "well within" the city code parameters.
On Saturday, April 23, the day after the door closes to business, "we're having a big good-bye party on site," Dan Culumber said – a last hurrah sure to  be filled with laughter, tears and 30 years of  memories.