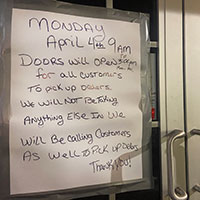 Popular laundry closes, leaving patrons wondering how to get their clothes back
STORY BY LISA ZAHNER (Week of April 14, 2022)

Many barrier island residents, who had come to rely on Vero Beach Dry Cleaners to brighten and freshen everything from dress shirts to formalwear, recently have been wondering not only where else to turn for cleaning – but how to get their clothes back.
Finding the doors to the cleaner locked, readers contacted Vero Beach 32963 hoping to find out what happened, and some even called the Vero Beach Police Department for help retrieving their garments.
"They do not respond to calls and their (voice) mailbox is full so no message can be left," one island resident told the newspaper. They also were not responding to email requests for information, he said, appealing to our news staff to investigate.
Police Chief David Currey said last week that his officers looked into the matter, "We did receive some calls and intervened to include contacting the owner."  Currey said his officers were informed the shop would re-open limited days and times "to allow for the return of patron items. I know some have already received their clothing items back."
According to a poster-board sized sign duct taped to the door of the Miracle Mile store stating the pickup days would start on April 4, tomorrow (April 15) is the last day the dry cleaner will be open for pickup, from 9 a.m. to 3 p.m.
"Due to the latest loss of a Vero Beach Dry Cleaners family member, we are closing our doors permanently. We will be calling all customers to come pick up their clothes. Please do not pound on the door. Thank you," another sign said.
So what's happening? That's still unclear. The controlling shareholder of the business, Ottavio "Otto" Didomenico, died unexpectedly last summer at age 74. Didomenico's wife, Deborah Fong, who worked for many years in the business, has been unable to continue due to health reasons. She is being represented by local Vero attorney Charles Sullivan Jr. in a probate case filed by Fong and by Didomenico's son Joseph, who also worked in the business, for the court to settle up the estate. Ottavio Didomenico apparently left the business to his adult children, not to Fong.
"Otto was a great guy and a good friend. The dry-cleaning business is a lot of work and Otto was a very good businessman and a hard worker and he really knew what he was doing.  He'd made dry cleaning his life's work," Sullivan said.  "After Otto died, everybody wanted to keep the business going. I know he (Joseph) was trying to run the business."
Both Joseph Didomenico and Fong were listed as personal representatives in the case, until Fong resigned from that role in February. Sullivan said he has no idea what might become of the Miracle Mile shop and a second shop of Route 60 as his client is no longer involved in the case.
As of Monday, the business telephone at Vero Beach Dry Cleaners still went to a generic voicemail message saying the mailbox is full.  Joseph Didomenico's attorney in the probate case, Barrett Horner did not return a phone message as of press time.