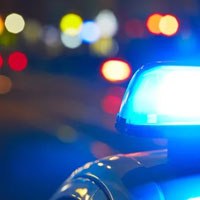 Detectives making progress in investigation of crash that killed elderly John's Island man
STORY BY LISA ZAHNER (Week of August 11, 2022)

Detectives made some progress this week in the investigation of a high-speed crash in May that killed an elderly John's Island resident and serious injured his widow.
But police said it will be a while yet before they know whether the results of a blood test will enable them to file charges against the Orchid Island Golf & Beach Club resident who was driving the black Mercedes that slammed into the rear of the couple's car.
The Indian River Shores Public Safety Department, working alongside State Attorney Tom Bakkedahl's office, obtained and served a search warrant on HCA Lawnwood Hospital for the results of blood tests performed when the driver of the rear vehicle was transported to the hospital with injuries from the crash.
The hospital had not provided the lab results voluntarily, and then did not comply with a subpoena for the medical records within the 20-day timeframe, forcing the Shores to seek a search warrant.
But when the raw data from the hospital lab finally was handed over, the results were not in the form the Shores officers needed.
The blood drawn by and processed by the hospital had the results in milliliters, not as a blood-alcohol level percentage, Shores Chief Rich Rosell said on Monday.
"The crime lab could not interpret the results for us because they did not perform the tests, I understand that," Rosell said. "So the State Attorney's Office had to hire someone, an expert recommended to us by the crime lab, to interpret the results."
When that work is done, Rosell said, detectives finally will have a number they can compare with the Florida legal limit for impaired driving, .08 percent blood-alcohol.
Rosell said officers normally have a blood kit that they can give to a hospital. "With the kit, they give us the blood and we take it to the crime lab and they run the toxicology tests and give us back the blood alcohol level, or if there are any drugs found. But in this case we did not use a kit," Rosell said.
"That night we had two trauma alerts from this crash and the priority was getting them to the hospital. There wasn't any time to go back to the station to grab a kit," Rosell said.  "The kit was not the priority at that moment with the extent of the injuries, it was keeping them (the elderly couple) alive."  The husband later died of his injuries.
Both Indian River Shores ambulances were used to transport the couple. "We called Indian River County (Fire-Rescue) in to transport the suspect," Rosell said. Her injuries were not as serious.
Her identity has not been released.
While waiting on the lab results, Shores detectives have been compiling other evidence and witness accounts in the case, including a statement from an eyewitness who came forward in response to initial news reports about the investigation.