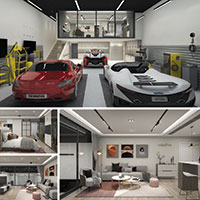 Lofty ambition: Customized storage units will also come with 'ultra-luxury condos'
STORY BY STEVEN M. THOMAS (Week of August 18, 2022)

First came the high-end storage units, where buyers could keep their classic cars and luxury "toys."  Then came bigger units – customized with mezzanine levels, bathrooms, and big-screen TVs – designed to hold Class A RVs.
Now, would you believe garages that will each come with a 500-square-foot "ultra-luxury condo" with kitchen, living room, bedroom and two baths?
That's what local developer Scott Parker is planning with his Bespoke Lofts project on 12th Street, where he will build 17 custom, luxury storage units that include a small condo as part of the package.
He got his demo permit from the county on Aug. 4 and has received approval from the state to take cash deposits and reservations.
His will be the fifth luxury storage project launched in Vero in the past several years, as island buyers have snapped up hurricane-proof units as large as 1,500 square feet, paying $300,000 and more for beautifully designed and built "garages" to store their valuable possessions.
Parker's units will be unique in two ways: They are being built inside an existing building instead of from the ground up, and they will come with a 500-square-foot, "ultra-luxury condo," in Parker's words.
In fact, the units are being sold as condos with really big garages, not as storage units.
Parker said the gated community will have a country-club feel when complete, "with gorgeous landscaping and John's Island finishes" in the loft condos.
"They are all fully customizable – bespoke – but the basic unit will include a complete kitchen, living room, bedroom, washer/dryer and two bathrooms – a full bath upstairs and a half-bath in the garage area," Parker said.
List prices have not been announced because Parker is still calculating his final costs.
Despite that, buyers are already putting down substantial cash deposits and signing reservation documents.
"I have people coming to me all the time saying, 'I want one!' When I tell them I don't know how much they cost yet, they take out their checkbook and say, 'I want one.'"
All of Parker's reservations so far have been placed by 32963 residents, but he said traffic to his website is coming from Palm Beach and Fort Lauderdale as well as the island.
Interested parties so far include one islander who wants the storage space and plans to put his private jet pilot up in the condo when he is in town instead of paying for a hotel room.
"Another guy wants the condo as a place for his yacht captain to stay and then there is a young guy, about 35, who works in New York two days a week and flies back and forth," Parker said. "It is perfect for him. He has a couple of Ferraris to store and he'd rather have his own place in town instead of staying with his father on the island, kind of a bachelor pad."
"I liked the idea of that apartment," said John Sundell, a builder who lives in an oceanfront house in the Ocean Ridge neighborhood across from St. Edward's School, where his daughter just graduated. "If you have guys working on your cars, or you are working on them, it is nice to be able to make lunch right there," Sundell said.
"And it will be a place where overflow guests can stay or we can stay during or after a hurricane."
Sundell has reserved one unit but is thinking about expanding his purchase and buying two.
Parker bought the property at 630 12th St. in 2019, paying $900,000 for a 2.23-acre site with a 26,000- square-foot metal building that previously housed a health club. "I was planning to keep it as gym, but then came COVID and gyms shut down," said Parker.
"There were people interested in leasing the property for other commercial uses but when I went to the county, they said it was a residential area. They said it could be a gym, a church or residences."
That is when Parker put a creative spin on the luxury storage unit trend that already underway in Vero, deciding to redevelop the site as a condominium with expansive storage space as the central selling point.
"I think it was an ingenious idea," said well-known island builder Joe Foglia who along with two partners is developing Fortified Storage, a luxury garage project aimed primarily at Class A RV owners.
Parker has an impressive portfolio as a builder and developer. He spent 20 years doing projects in south Miami Beach before moving to Vero in 1992 and is currently building a 342-unit condo resort hotel called Ozone near Disneyland in Orlando that he said will be Gold or Platinum LEED certified.
Here in Vero, Parker developed the 3-Avenues shopping center and was involved in the redevelopment of the property by Humiston Park where Citrus Grill and the Ocean Park condos are today.
Recently, he has been buying property strategically around town. In 2020, he paid $2.8 million for Delta Plaza, a block south of 12th Street on U.S. 1. A year later he bought the concrete plant tucked away behind Majestic Plaza, and in March purchased the 333 office complex on 17th, a block from the Big Blue powerplant property where the city hopes to undertake a $120 million mixed-use redevelopment project.
He also recently purchased a steel stud fabricating operation.
His company, ABG, will both develop and build the Bespoke Lofts. He has a showroom at 3 Avenues Plaza where buyers can see a model condo layout and pick finish materials.
Also on display at the showroom is a flawless 1966 Corvette Stingray that his father bought new and that he spent three years restoring.
"I have had as many as 15 cars, but now I am down to the 'Vette, a Land Rover and a Jaguar," said Parker.
He is keeping three of the 17 units at the loft project to store his cars and other valuable possessions and the remaining units are going fast as demand for secure luxury storage continues to put smiles on developers' faces.
High-end, super-secure, luxury storage units arrived in Vero in 2018, when a group of engineers and island builder Vic Lombardi built Autohaus, a 37-unit project on 12th Street by Dixie Highway that the group undertook when they couldn't find a good place to store their classic autos and other "toys."
It sold out at prices ranging from $139,000 to $249,000 a few months after completion.
Lombardi and Joe Schulke of Schulke, Bittle & Stoddard L.L.C. followed up with Indian River Motorhaus, a 17-unit project on U.S. 1 at 41st Street that sold out before the walls went up.
Spurred on by that success, Schulke and Lombardi have since broken ground on Indian River Motorhaus 2.0, a 99-unit project on 41st Street near Dixie Highway. They are building the project in two phases and even though they haven't poured the slabs yet they've already sold 47 of 67 phase-one units at prices ranging from $179,000 to $299,000.
Foglia and his partners are at the similar stage of construction at Fortified Storage near Old Dixie and 4th Street. Prior to slabs being poured, they have sold 10 of 15 units at pre-construction prices ranging from $269,000 to $299,000 for 1,500-square foot units large enough to house the Class-A recreational vehicles.
Units at Fortified Storage and Indian River Motorhaus 2.0 can be customized with mezzanine levels, bathrooms, big-screen TVs and other amenities at additional cost.
Parker's basic unit is about 25 feet wide by 45 feet deep with 28-foot-high ceilings and 14-foot by 16-foot overhead doors to admit large vehicles. With the included second-level condo, there will be a total of about 1,500 square feet of functional space.
Double units will have 2,250 square feet of garage space with a 1,000-square-foot apartment above.
Parker plans to begin work at the old health club in October and be done by late 2023.