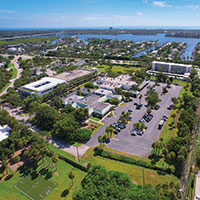 Mixed-use village proposed for 5th Avenue property just north of Vero's Miracle Mile
STORY BY STEVEN M. THOMAS (Week of August 4, 2022)

Commercial real estate broker Keith Kite was excited last month when he picked up the listing for 2300 5th Ave. immediately north of Miracle Mile.
Kite's enthusiasm for the property goes way beyond the prospect of a big commission. He sees it as an opportunity to upgrade the Vero Beach lifestyle with a mixed-use village that would bring new life to the area between the bridges, and begin to fulfill the city's vision of "incorporating residential and other non-retail uses" into the Miracle Mile district.
Right now, the 7-acre property is kind of a dead zone. It has a large, leased-up office building at its center – which used to be the old Doctor's Clinic – but it is cut off from Miracle Mile with just two obscure ways in and out.
Kite envisions opening the property up and replacing the old building, which dates from the 1960s, with a lively mix of shops, restaurants, professional offices and luxury townhomes or apartments.
"Right now, it is a ghost, but with 7 acres between the two bridges, there is a rare opportunity for a very special project," said Kite. "It is a large palette that lends itself to a real live/work/play redevelopment.
"I call it a village concept, done in a Vero Beach style. Much like Ocean Drive is today, it would be a place where you can walk and shop and eat at nice restaurants, but with residential as part of the package.
"I have looked at village concepts around the state and in other parts of the country that have been successful and we have contacted developers who have had success with similar projects – places like Park Avenue in Winter Park and Delray Marketplace, where you have sidewalk cafes and things like a wine bar with an apartment or studio above, or a concierge medical office with a restaurant and shops below.
"We went out to the market last week and we've already had interest from a San Diego developer and a developer in Chicago who is familiar with Vero. We have had strong interest out of South Florida, with several of the developers, and we are meeting with our connections in Orlando."
Local developers like the idea, too.
"It could be a good high-end, mixed-use project with townhomes and restaurants," said Scott Parker, developer of the nearby 3 Avenues shopping center, where Panera Bread, Bonefish Grill and Chase Bank are mixed in with retail shops and offices.
"It is an exciting piece of property," said Yane Zana, who has developed multiple oceanfront luxury projects on the island. "It is a great spot where you could actually have a park-like pedestrian shopping and dining experience with unique restaurants and high-end rentals above.
"The townhomes would be the anchor. If they were luxury rentals they would fill up immediately, probably before the retail space, because there is such a shortage in Vero."
Kite told Vero Beach 32963 the site can accommodate between 15 and 25 residences, whether for rent or sale. They could be flats above retail businesses or freestanding townhome buildings blended in with the commercial space.
The retail/restaurant/office mix could go in various directions, depending on what a developer wants to do.
He said an attractive 2- or 3-story parking garage would free up much of the acreage now used as a parking lot for shops, homes, paver pathways and park space with benches and fountains.
Zana compares the proposed project to both the Village Shops on the island and City Place, now called The Square, in West Palm Beach, a development that revitalized that downtown area when it was built 20 years ago.
"I am not that crazy about shopping," Zana said, "but my favorite place to shop in Vero is the Village Shops, because you can cruise around and buy a nice cashmere sweater for your girlfriend and get yourself a couple shirts at J. McLaughlin and some candles for your mom at another shop and then grab lunch at Citron. People love that outdoor café feel blended with nice shops."
Parker said he isn't convinced retail would be a winning part of the mix, based on some lingering vacancy at 3 Avenues. "It is tough right now," he said. "I am not sure you will attract high-end retail."
But there are a range of retail options, from local shops like those along Ocean Drive, to small luxury boutique chains such as Sea Bags and J Mclaughlin at the Village Shops to high-end national chains.
"The Village Shops seem to be successful and I think they only really draw from the island," said Zana. "A place like Keith has in mind would draw from all of Vero. If they get some nice stores and something like a Capital Grille, I will be there!"
The site is more than twice the size of the Village Shops property, which provides room to maneuver, and it would be much more pedestrian friendly than 3 Avenues.
Kimley Horn has an undeveloped parcel adjacent to the proposed development and there are some empty multifamily lots on the other side. Neither of those is listed for sale but if an ambitious developer incorporated them into the project it would create a palette twice the size of 3 Avenues and larger than Publix Plaza.
Kite, who has developed three hotels in Vero and is part owner of two, wants to work with the city to complete 5th Avenue, linking Miracle Mile and Royal Palm Boulevard with a roadway that runs along the west edge of the development; 3rd Court could also be extended across a small canal that now isolates the property to provide direct access from Indian River Boulevard.
Having a leased-up office building on the site would be a benefit for a incoming developer, providing cash flow while the project goes through planning and approval, a process Kite said will take several years.
The biggest business in the building is Omni Tax Help, which is owned by seller Matt Mulligan, who purchased the property for $4,125,000 in 2005.
Kite said Mulligan would be willing to stay and pay rent during project prep and relocate when development begins.
Most of the other leases are up in 2025, when construction would begin. Nonprofit Alzheimer and Parkinson Association of Indian River County's lease runs until 2027, but Kite said a developer could buy out that one lease or, possibly, incorporate the nonprofit into the project.
The property would have to be rezoned from POI – professional, office and institutional – to PD or planned development, a designation that would allow a flexible, mixed-use design.
The change would accord with the city's goals and strategies for the Miracle Mile district, which include modifying "zoning ordinances to allow the creation of mixed-use and 'village' character developments in commercial corridors, including incorporating residential and other non-retail uses," according to the Vero Beach Vision Plan.
Kite says the project could be open for business by 2026.