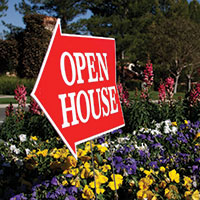 Number of homes listed for sale on island rising — slightly
STORY BY STEVEN M. THOMAS (Week of August 11, 2022)

The number of single-family homes for sale on the island has more than doubled in the past couple of months – from fewer than 40 at low points in the spring to almost 90 one day last week. Condo inventory has jumped, too.
"Inventory is building because the number of sales have declined steeply," said Buzz MacWilliam, owner of AMAC Alex MacWilliam real estate. Houses are sitting on the market longer and the number of price reductions continue to increase.
For the most part, real estate professionals who make their livings selling houses and condos express relief and even happiness about the market shift.
"The shift is bringing some balance back to the market," said AMAC broker Alex MacWilliam IV, who is Buzz MacWilliam's son.
"It is becoming a fairer market, which is good for buyers," Berkshire Hathaway agent Chip Landers told Vero Beach 32963.
Asked for a comment on the inventory increase, ONE Sotheby's International Realty broker-associate Cindy O'Dare had a one-word response: "Hallelujah!
"We are very happy to have the beautiful new listings we have gotten in the past month," she said. "It has become a very nice market for both the buyer and the seller at the top end."
The upbeat attitude during a time of declining sales has several causes. Some agents are glad to get a breather after the intense boom of the past two years that began to fade in late spring, and all of them are happy to have more houses to show their buyers.
"It is extremely frustrating when you are trying to help someone find a home and it just doesn't exist," said Marsha Sherry, broker at The Moorings Realty Sales Co., whose agents got three new listings in one day last week. "So, yes, we are happy to see inventory building a little bit."
Another big factor enabling a generally positive outlook is that no one expects a crash.
"A fundamental shift in value has happened," said O'Dare. "We will never see pre-pandemic prices here again."
"We are watching what is going on, but I still feel very confident about the market," said Sherry. "We will see slower appreciation but prices will stay strong even with increased inventory because it is still way below the norm."
Case in point, there were 88 single-family homes for sale on the island at the end of last week, according to figures provided by Alex MacWilliam, but the pre-pandemic norm was four to five times that many active listings.
"Prices aren't dropping," said Landers. "They just aren't going up as fast. It is starting to become more of a normal market."
What is happening in Vero Beach is part of a nationwide trend in which sales have declined, inventory has increased and price appreciation has slowed down.
Decreased stock market value, international instability, recession fears and a dramatic increase in mortgage interest rates are some of the reasons cited for the shift, both locally and nationally.
Mortgage rates shot up this year from 3.5 percent to a high of 5.81 percent in June, adding hundreds of dollars to monthly mortgage payments for homebuyers already pressed by huge price increases over the past two years. 
At the same time the Dow dropped from 36,800 at the start of the year to a June low of 29,888, losing 20 percent of its value, a threatening war raged in Ukraine and economic forecasters began warning of impending recession.
"Every time you turn on the news you hear about inflation and recession, war with Russia and stock market volatility," said Buzz MacWilliam. "That gives buyers pause."
"Perception is reality and some buyers have taken a step back," said Landers.
But demand continues to outpace supply on the island and throughout the county.
"We are still getting multiple offers for good houses, but maybe two or three offers instead of nine or 10," said Alex MacWilliam.
And several of the trends worrying buyers have reversed in the past two months. The stock market has gone up 10 percent since its recent low, climbing from 29,888 on June 18 to 32,800 on Friday; gas prices, a key driver of inflation, have fallen steadily for two months; and mortgage rates dropped back below 5 percent last week, which is "way low by historical standards," according to Landers.
It is easy to forget, but mortgage rates in the 1970s bounced between 7.29 and 12.90 and hit 18 percent in the 1980s. They ranged between 7 percent and 9 percent in the 1990s and mostly between 6 percent and 8 percent in the 2000s.
It is only in the past 10 years or so that rates have hovered around 5 percent, where they are now. The pandemic rates that hit lows around 2.8 percent and lingered for a year or more between 3 percent and 4 percent were anomalies, the lowest rates ever seen.
So, according to island agents, mortgage rates where they are now – 4.99 on Thursday – don't spell doom for housing market. Nor does the decline in sales that is pushing inventory up enough to give buyers some breathing room.
"What we are seeing now is more like a typical summer used to be," said Landers of the current slowdown. "We will see what happens when we start getting into season with people coming back for the winter."
"This is the first year that people could really travel freely and I know a lot of people who are away in Europe," said Alex MacWilliam, citing another reason for the late-summer lull.
"Right now, people are relaxing, on vacation, getting kids ready to go back to school," said O'Dare. "But we are still getting lots of inquiries and we think the market will be good for the rest of the year."
"All the reasons people have always wanted to move here still exist," said Sherry, who expects a strong market going forward.
"We are getting a lot of calls for new listings and having good sales," said O'Dare. "We are very happy with the market."
According to a Redfin report published on Friday, signs of a nationwide buyer rebound are already taking shape.
"More homebuyers are returning to the market, motivated by a decline in interest rates and a record share of listings with price drops," the report states. "Redfin's Homebuyer Demand Index – a measure of requests for home tours and other home-buying services – rose 7 points during the last week in July, and mortgage purchase applications rose for the first time in five weeks."
"People are going to continue moving to Florida and Vero is still a great place to be," said Alex MacWilliam. "I think we will be all right."