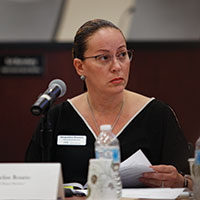 Rosario writes check to end campaign contribution confusion
STORY BY RAY MCNULTY (Week of August 4, 2022)
Photo: School Board member Jackie Rosario.

School Board member Jackie Rosario, who is seeking re-election to her District 2 seat, last week filed a campaign treasurer's report that included a $1,000 in-kind contribution from The Source – a political gift that could jeopardize the nonprofit organization's tax-exempt status with the Internal Revenue Service.
The filing stemmed from The Source's Dignity Catering division having provided food, free of charge, for Rosario's July 14 campaign fundraiser at the Vero Beach Community Center.
Rosario's report, however, seemed to surprise Anthony Zorbaugh, executive director of The Source, a Christian outreach mission that serves the poor and homeless in Indian River County.
Told of Rosario's filing, Zorbaugh vehemently denied making any contribution to her campaign.
"We catered an event for her, but it wasn't a campaign contribution," Zorbaugh said late Friday, after Vero Beach 32963 informed him of Rosario's filing. "I didn't write her a check or give her any money. I gave her some meatballs.
"We don't have any political ties to anybody," he added. "
Within minutes, apparently, Zorbaugh reached Rosario by phone at Main Street Vero Beach's Downtown Friday celebration. He then called this newspaper and said Rosario offered to write a $1,000 check to cover the cost of catering her event and amend her filing.
"She was very apologetic," Zorbaugh said. "She said she included the catering service in her report because she's required to list every in-kind contribution. She said she'd write us a check and change the report to remove the contribution."
Rosario responded via email Saturday and confirmed that she had spoken to Zorbaugh and told him she would pay for The Source's catering service.
She wrote that she offered up front to pay for the food service at her fundraiser. She claimed Zorbaugh rejected the offer and said he would cater the event for free.
"He explained his goal is to promote his programs and help change the lives of homeless individuals," Rosario wrote. "This event was no different. It gave his organization exposure while providing his staff more experience in the catering business."
She said she listed the amount of the contribution at $1,000 because Zorbaugh told her that's how much the service would cost if someone were paying for it.
Zorbaugh said The Source, through its food-truck and Dignity Catering programs, provides meals to anyone in the community who needs food. He said the Dignity Catering division has catered other events, including birthday parties and summer camps.
As for whether Rosario offered up front to pay for the catering service provided at her July 14 fundraiser, Zorbaugh said he couldn't recall the conversation.
"She might have," he said.
Rosario, who in her email described herself as a "born-again Christian," did not explain why she initially agreed to accept free catering from a charitable outreach ministry that relies heavily on donations to help the poor and homeless.
Rosario did not mention The Source's catering service in her initial July 26 report, which included $3,500 in contributions and was filed at 5:43 p.m. She amended her filing 4 ½ hours later to include The Source's contribution.
"It would've been nice to know she was going to do that," Zorbaugh said. "She didn't give me any indication that this was a campaign contribution."
The IRS website states that an organization that violates the prohibition against political activity could have its tax-exempt status revoked.