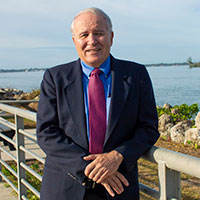 Shores incumbents to stay, but Council has one new opening
STORY BY LISA ZAHNER (Week of August 4, 2022)
Photo: Councilman Christian Hendricks resigns.

While three members of the Indian River Shores Town Council were re-appointed last week without an election because no one qualified to run against them, residents can still expect some new faces in their municipal government.
Councilman Christian Hendricks submitted his resignation on Monday morning, effective Friday, saying he is moving out of state. Hendricks wrote in his resignation letter addressed to Town Manager Jim Harpring, "To the residents of Indian River Shores, I wish them all well. They can be assured that you and your staff will do your best to protect them and provide for their well-being and happiness."
Hendricks, a local Realtor and a former top administrative staffer for the U.S. House of Representatives, was elected to a four-year term in 2020, so now the council must appoint someone new to fill the balance of Hendricks' term.
"We will just use the same process as we did when John McCord resigned. My goal is to get a notice of vacancy out to the residents this week and anyone who is interested would submit a letter and CV. We need to set dates and time frames and I would imagine the council members would want to do one-on-one interviews," Harpring said.
But the town will have plenty of continuity in government as Mayor Brian Foley, Vice Mayor Jesse "Sam" Carroll and Councilman Bob Auwaerter have all been returned for an additional four-year term, starting in November.
Foley said on Monday, "I look forward to continuing to work with my fellow council members on behalf of the people of Indian River Shores. Our mission remains to provide the highest quality services to our residents while remaining fiscally responsible. Keeping taxes low and working hard to best prepare the Town for its future challenges will remain our focus."
Auwaerter has been deeply engaged in the town's ongoing water-sewer struggles with Vero Beach, and Carroll is dedicated to making sure taxpayer funds, and especially the town's employee and public safety pensions, are well managed.
The Shores has a limit of two consecutive terms, after which a council member can run again or be appointed again after sitting out one election cycle.
Meanwhile in the town office, Town Clerk Janice Rutan started her new job on Monday, taking over the permanent position previously filled by longtime clerk Laura Aldrich, who retired in February.
Chelley Pallo-Darnell had taken over as Interim Town Clerk after Aldrich retired, but her untimely death in May left a major void in the town's small staff. In their shock and grief, Pallo's colleagues pitched in, with Deputy Town Manager and Town Treasurer Heather Christmas and Harpring keeping things running, and longtime Building Official Assistant Elizabeth "Liz" Scheidel serving as Interim Town Clerk.
Rutan, 64, who was hired in June by the Town Council, comes to the Shores with exceptional qualifications, having served as town administrator for Haverhill in Palm Beach County. She holds both the Certified Municipal Clerk and Master Municipal Clerk designations, which the council desired after Aldrich, a Master Municipal Clerk, retired.
As of now, Rutan is a charter officer supervised directly by the town council, but if a proposed charter amendment is approved on a mail-out ballot in January, the town clerk position would then fall under the supervision of the town manager.