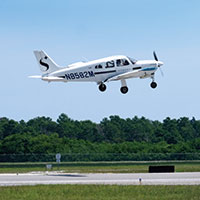 Skyborne Academy adds Delta to list of major airline partners
STORY BY RAY MCNULTY (Week of August 25, 2022)

Skyborne Airline Academy Vero Beach has added Delta Airlines to its growing list of flight-training partnerships with major and regional carriers.
The agreement with Delta's Propel program, the airline's pilot-career pathway, was finalized earlier this month and comes seven months after Skyborne announced a new partnership with United Airlines' Aviate program.
Skyborne also has established partnerships with: SkyWest Airlines, the nation's largest regional carrier; Endeavor Air, which operates as a Delta Connection; and Envoy Air, a wholly owned subsidiary of American Airlines and formerly known as American Eagle Airlines.
In addition, the academy has agreements to train pilots for two charter airlines.
"It's certainly good for business," Ed Davidson, managing director of Skyborne's Vero Beach flight school, said of the partnerships. "It increases our top-line revenues, and it's always nice to have those relationships, especially at a time when airlines need more pilots.
"Delta is a great addition to our stable," he said.
Delta's Propel program, launched in 2018 to identify, select and develop the next generation of pilots, is designed to take candidates through to their commercial and certified flight instructor ratings on their path to becoming a first officer.
According to a statement from Delta, Propel is a highly selective program that provides current Delta employees, who have worked for the company for at least three years, with a transition opportunity and the support to pursue a career as a commercial airline pilot.
To qualify, candidates must have a private pilot's license and at least 100 hours of flight time. Only a select few are chosen each year. They are then given a defined path, timeline to become a Delta pilot and five-year leave of absence to complete their training.
After being trained by Skyborne and working no more than 42 months at a Delta Connection carrier, Propel participants may transition to a pilot position at Delta Airlines.
"This program will allow Delta to continue to invest in its people, tapping into their passion for aviation and the strength of the Delta culture," the company's statement reads.
Davidson said Propel candidates can expect to spend 30 to 40 weeks at the academy, where they'll train in single-engine Piper Warrior aircraft.
"Every aspect of our training is designed to prepare cadets for airline operations in terms of core knowledge and decision making, flight deck procedures and professionalism," Davidson said.
Apparently, Skyborne's global reach and commitment to filling the cockpits of major commercial carriers has drawn the attention of industry leaders.
"Skyborne has the level of professionalism and training rigor we look for in our flight school partners," Delta Propel program manager Kelvin Mason said.
While the Skyborne flight training remains the same, the programs offered by each airline is different, Davidson said, adding that some carriers pay for cadet training and others make conditional job offers.
He said he expects the academy to have as many as 200 candidates on campus by the middle of next year and 300 by the end of 2023.
"We've been progressing at a pretty good rate," Davidson said.
Earlier this year, after the academy's agreement with United was announced, Skyborne Chief Executive Officer Lee Woodward said the partnerships with major carriers produced a "significant rise in applications."
Skyborne, which was founded at the Gloucestershire Airport in the United Kingdom in 2018, has quickly earned an international reputation as one of the most respected commercial-pilot training schools in the industry.
Skyborne purchased Flight Safety Academy in Vero Beach in May 2021.