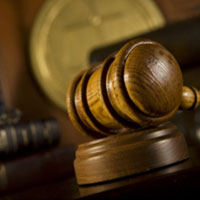 Baird sentenced for stalking ex-girlfriend
STORY BY RAY McNULTY (Week of December 29, 2022)

Former county administrator Joe Baird has been sentenced to one year of probation, after being found guilty of stalking his ex-girlfriend following the most recent breakup of their tumultuous, eight-year romantic relationship.
As a condition of his probation, Baird, 65, is prohibited from having any contact with the woman.
County Court Judge Robyn Stone handed down a guilty verdict on the first-degree misdemeanor charge after an eight-hour, non-jury trial on Dec. 16, ruling the evidence presented by a state prosecutor proved Baird stalked the woman earlier this year.
However, Stone then granted Baird's motion to withhold adjudication of guilt, which means court records will show he was sentenced to probation on the stalking charge, but he was not convicted.
Assistant State Attorney Felicia Holloman said Stone agreed to the withhold of adjudication after considering Baird's age, absence of prior criminal history and his adherence to the no-contact order after his arrest in June.
If he successfully completes his probation, she added, Baird could seek to have the case expunged from court records.
Andy Metcalf, the Vero Beach attorney who represented Baird, said he also could petition the court for early termination of the probation.
"The judge realized there were a lot of mitigating circumstances in this case," Metcalf said. "If Mr. Baird were perceived by the court to pose a danger, there would not have been a withhold of adjudication."
In November, Stone issued an "Order of No Imprisonment" after the ex-girlfriend testified at a hearing that she didn't want to see Baird incarcerated, even if he were found guilty.
The woman, who asked that her identity be withheld under Florida's victim's-rights law, told Stone she wanted Baird to stop following and stalking her.
After the trial, the ex-girlfriend said she was satisfied with the verdict, adding, "The judge found Joe Baird guilty, and justice has been served."
Baird said the case emerged from a "bad breakup," adding, "I've moved on with my life, and I hope she moves on with hers."
The couple had lived together in Baird's Indian River Shores home on and off from April 2019 until the woman moved out this past spring. The ex-girlfriend claimed he began stalking her in May, and she went to court to try to obtain a restraining order against him.
After listening to the testimony of seven witnesses – including the woman, her parents, a private investigator and a Vero Beach police detective – Circuit Judge Robert Meadows denied her request, citing the close proximity of the island homes in which Baird and his ex-girlfriend resided, and the absence of the former county executive exhibiting any threatening behavior.
"There's not one scintilla of a threat presented to this court," Meadows said at the hearing, adding, "I see a relationship gone bad, but I don't see the malice or intent ... There has to be some kind of action besides being in the same town that she's in."
Baird was arrested three weeks later, after returning to Vero Beach from a rented summer home in Rhode Island and turning himself in at the County Jail, where he spent the night before posting a $2,500 bond and being released the next morning.
In a probable-cause affidavit used to obtain an arrest warrant on June 24, Vero Beach Police Detective Jennifer Brumley wrote that Baird "willfully, maliciously and repeatedly followed, harassed and cyberstalked" his former longtime girlfriend between May 1 and June 27.
Metcalf, who also represented Baird at the earlier hearing, said he was "shocked" the police pursued a case after Meadows had rejected the woman's stalking claims.
The woman, however, said Meadows didn't consider all of the evidence – because he refused to view visual evidence collected by a private investigator she had hired.
She said the investigator, who was allowed to testify at the hearing, wasn't permitted to support his testimony with photographs and videos that clearly showed Baird stalking her.
Stone allowed that visual evidence to be presented during the trial, and Holloman said the investigator's photographs and videos were important to her case. The prosecutor also introduced text and voice messages Baird sent to his ex-girlfriend after their breakup.
Metcalf praised Stone for what he called a "very thoughtful ruling," which he said included denying the woman's request that Baird be required to submit to counseling and substance testing.
He said Baird was "embarrassed" by the publicity the story has received and "disappointed" he wasn't exonerated.
"When you think about the amount of court time and taxpayer dollars spent on this case – the injuction hearing and then this trial …," Metcalf said. "And to accomplish what?
"Basically nothing."