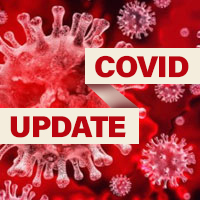 COVID-19 here seen up slightly during holidays
STORY BY LISA ZAHNER (Week of December 1, 2022)

As we enter our third Christmas holiday season since the start of the COVID-19 pandemic, new infections are holding steady locally while hospitalizations are up slightly.
The number of new positive cases reported to the Florida Department of Health per day remained in the single digits, with 63 new cases for the week ending Nov. 23, according to the Center for Disease Control and Prevention's Covid Data Tracker.
The CDC says eight Indian River County residents were newly hospitalized with covid last week, up from six hospitalizations the previous week. Cleveland Clinic Indian River Hospital spokesperson Erin Miller said on Monday, "Indian River Hospital has six Covid-positive patients in-house today, none in ICU."
The CDC uses data from up to 15 different university research teams and labs to predict surges of serious COVID-19 illness. Each of those sources gives the CDC a forecast, and those forecasts are color-coded and plotted on a graph as an ensemble model, much like the brightly colored hurricane "spaghetti model" forecast tracks.
Just as the National Hurricane Center's forecast model and cone represent the middle of the various storm track models, the CDC's official hospitalization forecast represents the average, or a line roughly in the middle of all the other forecast lines on the graph.
The forecast runs about three weeks out, and the current chart predicts that by Dec. 15, daily hospitalizations in Florida from COVID-19 illness will rise about 20 percent from last week's numbers. Locally that would mean about two more people hospitalized per week.
Nationally, daily COVID-19 hospitalizations are expected to increase about 16 percent by Dec. 15.
The CDC closely tracks the percentage of hospital beds and ICU beds being used in each local community to treat covid patients. Since many people are using at-home COVID-19 test kits, and those test results are not reported to the health department, the number of new hospitalizations can be a more reliable measure than the reported number of new cases in determining community spread.
With Influenza A and respiratory syncytial virus (RSV) circulating this fall in addition to COVID-19, public health officials have warned that hospitals should prepare for a "tripledemic" should all three viruses surge at once this winter. There is no vaccine for RSV, though several adult and pediatric vaccines are in development.