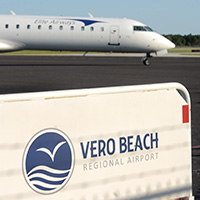 Elite Airways says it still plans to resume flights to Vero shortly
STORY BY RAY MCNULTY (Week of December 22, 2022)

Elite Airways president John Pearsall said last weekend he expects the carrier to resume commercial jet service at Vero Beach Regional Airport early next year.
"We intend to return first quarter 2023," Pearsall texted Saturday in response to questions from Vero Beach 32963.
Elite will issue a press release "right after New Year's," Pearsall wrote, adding that the announcement will include an explanation as to why the boutique airline hasn't flown since June 30.
Pearsall's remarks surprised Vero Beach Airport Director Todd Scher, who said Monday he's "anxious to find out what Elite's future plans are."
He said last week he hadn't heard from Pearsall since the Elite executive visited the airport a month ago and told him, "Everything is in place. We're ready to go."
Scher said he told Pearsall during that conversation what conditions Elite must meet before the airline will be allowed to resume service here – pay the $6,600-plus it owes the city in overdue fees, and provide proof of insurance.
The city was notified in August that Elite's insurance had expired.
The carrier has been barred from using the terminal or any other passenger facilities at the airport until it satisfies those obligations, Scher said, adding that Pearsall has not provided any specific reasons for the Elite's absence the past few months.
"I have no idea what's going on," Scher said last week, before Pearsall's text exchange with this newspaper. "He tells you something is in the works, then you don't hear anything."
Elite's lack of transparency has spawned several industry rumors, including some that claimed the airline was being sold, that Pearsall was taking on a partner, and that the carrier lacked the financial means to operate.
In mid-September, Pearsall said Elite would issue a press release within a couple of weeks, adding that the announcement would be "all positive stuff" designed to give the carrier "a lot more longevity."
Vero Beach officials – along with frustrated Elite customers in the community – are still waiting for that announcement.
Scher said the airport staff continues to field calls from local residents seeking refunds for canceled flights, but they cannot reach anyone at Elite's customer-service phone number.
"We get calls from people who want us to be responsible for the fares they've paid," he said. "All we can do is refer them to the U.S. Department of Transportation website, where they can file a complaint with the agency's consumer-affairs office.
"I've heard back from some folks who've gotten satisfaction that way."
Pearsall, however, has continued to offer only positive comments regarding Elite's plans and its future here.
When Breeze Airways announced in October plans to offer commercial jet service connecting Vero Beach to Hartford, Conn., Westchester County, N.Y., and Norfolk, Va., Pearsall called it "great news" and said, "We welcome competition."
He then said Elite would make its announcement in approximately 15 days.
That was two months ago.
In the meantime, Scher said, he and his staff are continuing with their preparations for Breeze's arrival. The airline is scheduled to begin service here on Feb. 15.
If Elite does resume its Vero Beach service, Scher said the airport staff ad terminal can handle both airlines, as long as the two carriers don't schedule flights too closely together.
The airport's single-lane Transportation Security Administration checkpoint likely would get backed up if two flights were schedule to depart at anywhere near the same time.
Elite began offering non-stop jet service to Newark, N.J., in December 2015 and later added flights intermittently to Portland, Maine; Asheville, N.C., and Westchester.