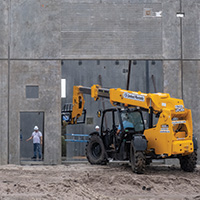 Instant buildings: Tilt-wall construction a traffic stopper
STORY BY STEVEN M. THOMAS (Week of December 1, 2022)

Turns out tilt-wall construction is more than just a super-strong building technique, producing steel and concrete structures that, barring redevelopment, will stand for centuries. It's also a dramatic spectacle.
"It literally slowed traffic out on 41st Street. You could see them hitting the brakes when they looked over," said John Zuefle, construction superintendent at Indian River Motorhaus 2.0, a luxury garage project where four buildings totaling 70,000 square feet went up in just four days last month.
It isn't every day that commuters see a 140-foot-high, 350-ton crane swinging concrete panels weighing tens of thousands of pounds into position on pre-poured foundations where construction workers fit them together with steel beams and bolts like oversize building blocks.
The drama was heightened for Zuefle and project developers Joe Schulke and Vic Lombardi, who had been preparing for the high-stakes construction choreography for months.
"There is no margin for error with tilt-up construction," said Lombardi, owner of Waters Edge Estates and one of the top high-end homebuilders on Vero's barrier island. "Everything has to be exact."
"There is a lot of planning out there," Zuefle said, standing in the construction trailer at the job site last Tuesday, shortly after the last massive panel was set in place. "You have to be all over everything to make sure these Lego things go together precisely as they are supposed to. It makes you feel pretty good when they do."
The Instant buildings were a critical inflection point in what is by far the largest luxury storage project Indian River County has seen so far. The $25-million, 10-building development, which is being built in two phases, will deliver 98 oversize garages that island buyers are snapping up at prices ranging from $199,000 to $330,000.
Most buyers have been car collectors while others own luxury RVs they don't want exposed to the elements or have other valuable possessions they prefer to store in a secure location.
"I'd say 90 percent of our buyers are from the island," says Schulke, managing member at the engineering firm Schulke, Bittle & Stoddard, L.L.C., who designed the project. "Forty-six of the 67 units in the first phase have been sold and we will begin taking reservations for the 31 second-phase units in the next month or two. We have hard contracts with 30 percent down on the sold units."
The inflow of cash has been handy in a time of rising construction costs.
Motorhaus 2.0 is Schulke and Lombardi's third luxury garage project, and they've seen their building costs surge from project to project.
"The cost of construction went up about 30 percent between Autohaus and the first Motorhaus," Schulke told Vero Beach 32963. "Costs jumped 60 percent between Motorhaus and Motorhaus 2.0."
For context, Autohaus, a 37-unit project on 12th Street, was completed in 2019, and Motorhaus, a 17-unit project on U.S. 1 between 41st Street and 45th Street, wrapped up in 2021.
Material shortages have been a challenge, too. When the partners went to order steel web trusses to support the roofs of their Motorhaus 2.0 bunkers earlier this year, they found out the wait time would be as much as 10 months.
"Everything was back-ordered because of all the massive warehouses being built by Amazon, Walmart, companies like that," Schulke said.
A 10-month wait would have bulldozed the partners' timeline and the men say they had some panicked moments before they came up with a workaround that got them stronger trusses and showcased their maturity as a development team.
The team sourced steel bars and other components in the open market while structural engineer Schulke designed multiple trusses utilizing those components to bear the various roof loads on different-sized units, and Lombardi reached out to metal fabricator TruSteel in Fort Pierce, a company that had done steelwork for him in the past.
"TruSteel fabricated the trusses according to our design and we got them in four months instead of 10," Schulke said. "We saved a little money, too, and our trusses were actually stronger than the factory trusses when load-tested because we used slightly heavier stock."
Concrete, too, remained in short supply, a scary wobble in the supply chain for a project composed almost entirely of concrete.
Zuefle said each of the four tilt-up buildings consumed about 550 cubic yards of concrete – 300 for the walls and 250 for the slab foundation –  for a total of 2,200 yards. That is about 275 rumbling concrete trucks full of liquid stone weighing 9 million pounds when wet, according to civilsir.com.
"We had concrete companies telling us at one point that they couldn't guarantee they would have enough to complete the pour at one go and they weren't sure how much the concrete would cost," Schulke said.
Despite the challenges, Lombardi, Schulke, Zuefle and company have kept the job moving forward at a rapid clip.
"I think it is remarkable what we have gotten done," said Schulke. "It has only been a year since we closed on the property. It took about four months to get our site plan approval and we had our permits and entitlements by April.
"We broke ground in April, but for the first six months you couldn't see much of what we were doing, grading, bringing in water mains, things like that.
"That is why I was so excited to see the crane show up," Schulke added. "Now that the buildings are up it will boost sales even more."
The crane is a story in itself. A Liebherr 1300 crawler crane leased from Sims Crane and Equipment, it is the largest the partners have used on one of their garage projects and it cost them in the neighborhood of $50,000 to operate for 23 hours over the four-day tilt-up period.
The 700,000-pound, multimillion-dollar machine arrived at the job site in pieces on 14 trucks and took 13 hours to put together. A skilled operator came with it. Moving on heavy steel treads like an oversize battle tank, it picked up the multi-ton, pre-poured and cured wall panels "like a deck of cards" in Schulke's words and set them delicately in places the building plans specified.
"That is what made construction go so fast," Lombardi said. "The 200-ton crane we have used in the past is stationary. You have to set it up with outriggers and stabilizers and it can only move the panels as far as it can reach. Then you have to move it and set it up again, which takes a couple of hours, to get them the rest of the way."
"We would have had problems with a stationary crane in this mud," said Zuefle, who had to deal with several days of steady rain as he managed the intense wall installation process.