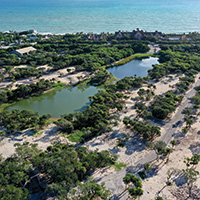 Island's biggest homebuilder saving oaks to preserve Vero's 'Old Florida' ambiance
STORY BY STEVEN M. THOMAS (Week of December 8, 2022)

Near the end of a roller coaster year for the construction and real estate industries, GHO Homes continues to move forward at its two largest island projects, opening a model home at the Strand this month and getting ready to "go vertical" at Seaglass, across from Disney's beach resort.
GHO bought the 47-home Strand community in Indian River Shores from Lennar in 2021, after the mega-homebuilder failed to gain traction with the project. GHO president Bill Handler told Vero Beach 32963 his company has sold 13 homes in the upscale development since then and has 26 for sale.
Handler said buyers have come from "all over," including most recently a purchaser from Alaska who becomes one of the snowiest of island snowbirds.
There are nine inventory homes at various stages of permitting and development in the Strand, including three that will be complete in the first quarter of 2023, with the first one deliverable in February.
Handler said buyers picking out lots and ordering new homes instead of purchasing from inventory should expect to get the keys about a year after a contract is signed.
GHO opened a model home at the Strand this month and plans a grand opening-type event at the Florida Coastal-style residence in January to kick off the winter sales season.
A couple miles north on A1A at route 510, roads and utilities have been installed at the 26-acre, 72-home Seaglass project. Construction of three model homes is slated to begin any day and Handler says the development will open for sales in the first quarter of 2023.
There will be 28 attached villas of  about 2,200 square feet and 44 homes that top out around 2,700 square feet.
Anyone who thinks of big builders as merely hardnosed businessmen should hear Handler talk about the project, where he has gone to great trouble and expense to save hundreds of mature oak trees and preserve an "Old Florida" ambiance, with winding streets, native hammocks, boardwalks and other features.
"You don't get opportunities like this very often," he said. "You can't create the kind of character that we are preserving here. From the treescape to the topography and angles of the lots, pretty much every lot in Seaglass is unique. Buyers will have a special sense of place from the day they move into their homes."
The Seaglass parcel originally was part of Disney's 70-acre Florida Beach Resort planned development, which was approved in the 1980s but never completed.
When Handler bought it for $6.9 million in 2019, it was a densely grown tract as natural as anything left on the island.
"The tree survey cost a fortune and was a real challenge," Handler said. "Three guys went to the hospital, two with heat exhaustion and one with a chainsaw injury.
Once the property was partially cleared, Handler, his civil engineer and other members of his team walked the tract and made on-the-spot decisions to move roads from where they were shown on the preliminary site plan in order to save more trees.
"The roads split in a bunch of places to go around stands of oak trees," Handler said. "Many builders would have scraped it and started from scratch and put in a lot more units, but we see the value in preserving as much as we can of the native landscape in this location.
"If we can't build communities with character, what are we even doing?"
A lot of the community's character will come from its location, a block from the Atlantic Ocean. It is just steps from the public restaurants at the Disney resort and Wabasso Beach Park, where there is a county beach with a lifeguard.
Seaglass will also have its own private beach club, just south of the Disney resort, with a kitchen, bathrooms, deck, beach chairs and other amenities.
Because of ongoing uncertainty about material prices and the state of the real estate market in 2023, Handler hasn't set prices for the villas and single-family homes yet, but he said there has been strong interest from buyers and island agents.
"We have an interest list of about 500 people," he said.
At the Strand, five models in the subdivision range in size from 2,734 square feet to 3,041 square feet and come with three bedrooms plus den/office, 3.5 to 4.5 baths, and three-car or oversize two-car garages.
Pre-construction list prices start at $1,645,990 and go up to $1,785,000. The inventory homes, which come with upgrades, are priced between $1,822,000 and $1,946,000.
"It is a wonderful product at a very good price," said Matilde Sorensen, co-owner of Dale Sorensen Real Estate. "I have a client who is very interested. The floorplan is great, the swimming pool is beautiful and you have deeded beach access."
Sorensen's point about the value proposition at the Strand is illustrated by recent sales in Central Beach where smaller homes that date from the 1950s and 1960s have fetched between $1 million and $2 million.
The brand new smooth-finished concrete block Strand houses come with a long list of the latest amenities and fine finishes and are, of course, built to current storm codes that make them more or less impervious to weather.
All five models come with solid construction features like 5/8-inch plywood roof sheathing, 8-foot, solid-core front doors and impact-resistant windows, and include luxury finishes, high-end appliances, and Internet-based control panels.
Each house also comes with a travertine-paved covered patio, 14-foot by 28-foot saltwater pool, and deeded beach access to the Atlantic shore just across A1A.
"I think it is a good product in a great location that is very well priced," said Charlotte Terry, leader of the Charlotte Terry Group at AMAC Alex MacWilliam Real Estate. "It is what people are looking for."
Despite its advantages, the pace of sales in the community has been relatively slow to date, for several reasons. For a while, material and labor shortages limited the number of homes GHO could build on the island and at its dozen-plus mainland subdivisions
"There was a sales quota that only allowed so many sales per month," Handler said. "We had to limit sales because we didn't want to make promises to people to deliver homes that we couldn't keep."
More recently, real estate market jitters have made buyers cautious.
"Between inflation, rising interest rates, stock market fears and the war in Ukraine, plus all the scary headlines people are reading, making the decision to buy a home has gotten harder," Handler said.
He is confident in the Strand's prospects, just the same. "We are building a handful of inventory homes that I know we will sell during season. Longer term, we have something that is rare in the market, with new homes in Indian River Shores at this price point. I wouldn't say we have a captive market, but we have more new product coming than anyone else, with a 100-plus island lots here in the Strand and at Seaglass.
"We are not in rush. The Strand is a whole new level for us and we are taking our time to make sure we do it right. I think we will close out sales here in 2024 and feel very good about what we built. "Island agents have been coming by to look at the model and make appointments to bring their clients when they arrive in town."