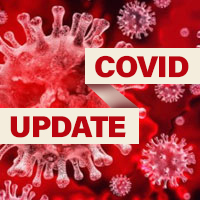 New COVID-19 infections locally surge last week
STORY BY LISA ZAHNER (Week of December 8, 2022)

The number of new COVID-19 infections locally surged last week, rising 54 percent to 97 cases here, according to the Florida Department of Health.  Statewide, cases rose by the same percentage, jumping from 12,155 to 18,761.
The number of local people hospitalized here with covid doubled, according to Cleveland Clinic Indian River Hospital spokesperson Erin Miller. "At CCIRH, we have 12 covid patients in our care as of this morning, none of which are in critical care," she said Monday." That's up from six people hospitalized the previous week.
It's unclear if these increases are the first sign of the widely predicted winter surge, or are simply the result of people traveling by air or train to visit family over the holidays, and gathering in larger groups than they normally might to eat turkey.
While influenza and Respiratory Syncytial Virus are also sending people to the hospital Emergency Department this month, Cleveland Clinic's chief medical officer, Dr. David Peter, said Monday that thus far "we have not had a large uptick or surge in RSV and flu cases.
"We have seen slightly more cases since Thanksgiving, but it has not had any real impact on hospital operations," Peter said.
Public health officials fear a "tripledemic" this winter if COVID-19 cases spike due to highly transmissible Omicron subvariants and waning vaccine immunity due to the slow uptake of "booster" shots at the same time the flu and RSV are making people very ill.
Nearly 10 percent of all deaths nationwide last week were attributed to respiratory illnesses – a combination of influenza, pneumonia, RSV and COVID-19.
Fifty-four of Florida's 67 counties, including Indian River County, are in the Centers for Disease Control and Prevention's Low Covid Community Level, with two pockets of counties in the Tampa Bay area and in North-central Florida in the Medium Covid Community Level category. No Florida counties are in the High Covid Community Level category.
Nationally, the number of Low Covid Community Level counties are decreasing, as the Medium and High categories inch up. According to the CDC, only one in 20 U.S. counties are in the High Covid Community Level category right now. Among the hard-hit areas are Queens, Brooklyn, Bronx and Staten Island, New York, plus Nassau and Suffolk counties on Long Island and Bergen County, New Jersey.
Other than those heavily populated areas of New York and New Jersey with a total of roughly 10 million people, the communities labeled as "high" by the CDC are not major metropolitan areas, but more rural parts of the country. The CDC takes covid's toll on each county's hospital capacity into account in its Covid Community Level standing, so with Influenza and RSV being in-season and filling up emergency departments, the rural areas categorized as High Covid Community Level could be labeled that way because people sick with covid are, relative to hospital bed and ICU capacity, putting greater stress on smaller healthcare systems.
The CDC's Covid Community Level map can be misleading. For example, California has no counties in the High Covid Community Level category, but that does not mean the state had low community spread.
Los Angeles County reported 16,595 cases and 54 deaths last week, the highest number in the United States, but that county's 1,285 hospitalizations accounted for fewer than 6 percent of the hospital capacity, so the CDC placed Los Angeles County in the Medium Covid Community Level category, not in the high category.
By comparison, Suffolk County on Long Island had 2,782 new COVID-19 cases and 18 deaths last week, but the 343 people hospitalized accounted for 9.4 percent of all staffed hospital beds in the county, placing Suffolk in the High Covid Community Level category.