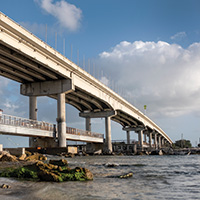 Plans moving ahead for new Sebastian Inlet bridge
STORY BY LISA ZAHNER (Week of December 8, 2022)

State transportation officials will host public meetings next week to explain plans to replace the 57-year-old Sebastian Inlet bridge so the public knows what to expect when the project gets underway in 2026.
Several alternatives were considered, but the working design calls for a new bridge twice as wide as the existing structure. Bridge clearance will be 51 feet – a full 12 feet higher than the existing 39-foot clearance. Not only will the center be higher, but the north and south bases of the bridge will be raised to prevent flooding from storm surge.
The vehicle lanes will remain 12 feet wide in each direction, but eight-foot bicycle lanes will be added on both sides of the bridge.

Beyond that will be a cement barrier on each side, then a 12-foot path to be shared by pedestrians and cyclists who don't feel comfortable braving the bike lane next to traffic.
Auto traffic will still flow over the old bridge while the new bridge is being constructed oceanward of the footprint of the existing bridge.
The $95.2 million bridge is expected to last 75 years once constructed. The eastern half of the bridge will be used for two-way traffic while the existing bridge is demolished and the western half of the new bridge is constructed.
Final approval of the bridge replacement study is expected in the first half of 2023, with right-of-way acquisition going into the spring of 2024.
The final design should be complete by the summer of 2025, with construction to start in early 2026.
FDOT hopes to have the new bridge completed by the fall of 2028.
Former Florida Sen. Charlie Sembler served for three years on the Sebastian Inlet Commission in the late 1980s and his great-grandfather worked on the construction of the inlet itself. He said there's been talk about replacing the 1965 bridge since then.
Sembler said the impetus at the time came from people with large boats and very high 16- to 18-foot antennae wanting an even higher bridge – as much as 60 or 80 feet.
But research showed there was not much point in going higher than 55 feet because the channel is not deep enough in a lot of place.
Boats might be able to get through the inlet, but would likely get stuck heading to a marina to dock and fuel up.
The virtual public meeting will take place at 5:30 p.m. on Dec. 13 on the GoToWebinar platform. People can also listen in by telephone.
The in-person meeting will be held from 5:30 to 7:30 p.m. Dec. 15 at the City of Sebastian Community Center on Central Avenue.
Comments from the public on the plan will be accepted through Dec. 27. For more information, go to the FDOT website project page and search for Sebastian Inlet.