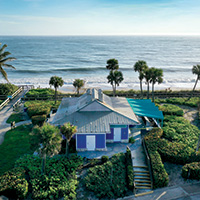 The wait for the Seaside Grill to reopen goes on
STORY BY SAMANTHA ROHLFING BAITA (Week of December 22, 2022)

Hungry Vero residents and their holiday guests will not be breakfasting or lunching at the Seaside Grill this Christmas season.
Scores of eager fans chomping at the bit for the reopening of their beloved eatery in Jaycee Park will have to wait longer than originally anticipated.
A couple of recently discovered issues are being assessed,  and neither the lessee, GC Ventures, nor the lessor, Indian River County, currently knows how long that wait will be. Since receiving the keys this past July, Studebaker (co-owner with partner Wiley Wong) and his local crew have worked on what he initially called "more of a facelift." But late in the summer, the county determined a more extensive kitchen equipment update would be required.
In August, Studebaker had said, "We at first estimated it'd take about six weeks; now it looks like 11, as we found more we needed/wanted to do." 
Shortly thereafter, according to Studebaker, an inspection revealed that the hood – a vital element in a commercial kitchen – would have to be replaced. 
At that time, as the county and Studebaker's engineer considered the potential extent of the kitchen project, other issues presented themselves which could add time and money to the project pricetag and the long-awaited opening date.
The hood replacement alone already adds significantly to the initially projected  $100,000-plus renovation price tag; and bumps forward the projected opening date, based on how long it will take to get the new unit on site, install it, pass inspection and get a permit in hand.
The county building department  has indicated the permit is on hold because "the contractor is currently inactive, and the contractor, local firm Milton Mayberry Enterprises, says  it is awaiting word from (the boots on the ground at the site) as to when the vital hood-related work can move forward.
A recent visit by Vero Beach 32963 found the building closed up with no work crew or owner on the property, the old hood sitting rusted and forlorn on the now empty south patio.
The little restaurant by the sea had stood  vacant since April 22, when  long-time operators Dan and Rose Culumber decided  to retire after 3 decades.
Under its new owners, the  Seaside Grill's  2,500-square-foot  footprint remains virtually the same, as will the seating capacity: 65 outside, 35 inside.
Already  in place, comfy and colorful seating will reflect the updated restaurant's beachy white and blue color scheme, inside and out.
As before, restaurant patrons will continue to have access to the city's nearby Jaycee Park restrooms.
A major change will be the hours of operation. Previously open at 7 a.m.  and closing in mid-afternoon,
Studebaker said that for the first week or two,  during the "very soft" opening, "it'll be 7 a.m. to 5 p.m. We'll see how the flow goes."