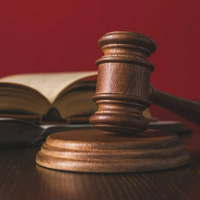 Veritable mountain of backlogged felony cases await trial here
STORY BY LISA ZAHNER (Week of December 8, 2022)

After the holidays, Circuit Court Judge Robert Meadows will take over Indian River County's criminal docket, inheriting a veritable mountain of backlogged felony cases.
"I'll have 1,100 cases on my docket, and that's being conservative," Meadows told Vero Beach 32963.
Meadows is taking on the challenge from Judge Dan Vaughn, who managed the bulk of the felony cases as COVID-19 wreaked havoc on hearing schedules and suspended jury trials entirely for seven months.
Bad as the current backlog is, it could have – in Meadows' view – been a lot worse.
"Dan Vaughn knows how to move a docket," Meadows said, and credited him with doing an amazing job of adapting to ever-changing COVID-19 restrictions on criminal courts.
Virtual proceedings may have helped keep civil, probate and other courts on track, Meadows said, but "you could not use Zoom for criminal proceedings except for first appearances and arraignments. Once you got past first appearances and arraignments, everything had to be in person."
Even before the pandemic, Vaughn inherited hundreds of felonies from Judge Cynthia Cox, who had tried to unsuccessfully to clear a backlog of 700 cases before handing over the criminal docket to Vaughn in January 2019.
No one could have predicted what would happen in March 2020, when pandemic lockdowns halted court proceedings and no jury trials occurred for seven months.
COVID-19 quarantines at the jail, sick lawyers, witnesses and defendants upended hearing schedules. Hundreds of defendants were granted blanket continuances by memo, month after month.
Unfortunately people kept committing felonies during the pandemic, so the growing pile of cases aging in the system accumulated into a mountain. In December 2021, Vero Beach 32963 reviewed court records and found more than 1,800 open or re-opened felony cases hung in the Indian River County Clerk of the Court case system.
Since 2023 judicial assignments were announced in September, Meadows, Vaughn and the 19th Circuit's Chief Judge Charles A. "Tony" Schwab have devised a new scheduling system for felony trials.
Under the current system, dozens of cases are routinely set for trial on the same morning, so lawyers and defendants must show up ready to try the case, with witnesses on stand-by.  But then only one or two cases – typically the oldest – proceed to jury selection that week.
The rest are continued, tossed back into the pile for a later date. It puts a tremendous amount of stress on overworked prosecutors and public defenders.
Senior judges like Joe Wild, David Morgan, Robert Pegg and Paul Kanarek  have been brought in to help Vaughn focus on selected felony trials, and Meadows hopes to use senior judges even more if the budget allows.
Under the new system, Meadows will set two cases for trial each trial week, with two backups in case defendants take a plea. Attorneys, defendants, victims, witnesses and law enforcement officers involved in the case will know on Thursday that the case will be tried the following week. That way everyone will have the weekend to prepare. Juries will be selected on Mondays. Shorter trials will start on Tuesday or Thursday. Longer trials for major crimes will be handled on different weeks, hopefully by senior judges, Meadows said.
Meadows will also hear changes of pleas at 8:30 every morning, giving defendants ample opportunity to access his court, as Vaughn does. For defendants who have been in custody for an extended period of time, the court will be offering more "time served" plea deals. This will help jail overcrowding and clear cases off the felony docket.
It's typical for county and circuit court judges to emerge out of the State Attorney's Office after having served a decade or more prosecuting criminal cases of increasing severity, or to seek an elected judicial office after a career track of high school, college, law school and then a private trial law practice.
But Meadows went to law school after retiring from the Indian River County Sheriff's Office at the rank of lieutenant. Before graduating from Appalachian School of Law in 2004, Meadows worked on road patrol, traffic and as a detective in the Investigations Division. He left the Sheriff's Office in 1997 with 23 years of service.
After being admitted to the Florida Bar in 2005, the Vero Beach native practiced criminal defense, family law and civil litigation for 13 years. "I've been on both sides," he said.
He's currently assigned to the juvenile offender docket, plus he handles other types of cases including probate, dependency and the issuance of protection orders. Meadows also presides over hearings for people in custody in accordance with Florida's Baker and Marchman acts, and this year he's taken on a portion of the felony cases to help out.
Starting in January, a portion of Circuit Court Judge Victoria Griffin's court time will be set aside to assist with the felony docket. Meadows said Griffin will handle felony hearings, pleas and trials one or two weeks per month. To accomplish this, the probate docket will be divided among several judges.
If the backlog of serious criminal cases that mushroomed during the COVID-19 pandemic is not whittled down significantly during Meadows' turn on the felony bench, the jail will be filled with more long-term residents like seven-year resident Asbury Lee Perkins, who awaits sentencing for a first-degree murder conviction for killing his business partner and estranged wife Cynthia Betts.
When defendants live at the jail for many months or years, the Sheriff's Office becomes responsible for their routine and urgent medical, dental and mental health expenses, plus pricey medications.
Former Ocean Drive financial advisor and attorney Michael David Jones lived at the county jail for five and a half years before being convicted in 2019 and sent to state prison for killing Moorings resident Diana Duve. It's not cheap for taxpayers to house, feed, guard and provide medical care to violent offenders that long while their cases drag on.
If Meadows can't clean up the felony mess, justice will be further delayed for hundreds upon hundreds of victims of violent crimes, or crimes involving theft of property, stolen identity, fraud, exploitation of the elderly and other serious offenses.
Bond arrangements have been modified to reduce the number of people being housed at the county jail by making it easier to get out on bail, but the goal is for Indian River County to stay tough on crime, despite the growing felony caseload.
State Attorney Tom Bakkedahl has stated publicly that criminals won't be getting off easy because of the case backlog. But in reality, the mountain of cases has got to play some role in pleas, or in decisions about whether to file charges.
Already we've seen the man who drove the car that killed John's Island resident Carl Cutler while Cutler was riding his bicycle along Highway A1A walk away from the tragic crash, not charged with any crime for Cutler's death. The driver was only issued a $1,000 fine for reckless driving.
Already we've seen some unthinkably lenient plea deals like the one struck with a 36-year-old west Vero man who planted a hidden camera in the bathroom of two teenage girls in an oceanfront estate in Indian River Shores.
Lennon Ford Starkweather, who was contracted as a technology expert to install high-tech equipment at what's commonly known as "The Wackenhut House" got a sentence of two years' probation for pleading no contest to two third-degree felony counts of Video Voyeurism on a victim under 19 years old. Starkweather also had to undergo a mental health evaluation and promise the court not to work in the I.T. field while on probation.
Each third-degree felony could have gotten Starkweather up to five years in prison plus a $5,000 fine had the case gone to trial and he been convicted with the substantial evidence collected by law enforcement. That case lingered for nearly two years with Starkweather free on bail before he was sentenced.
Another serious felony case on the barrier island, involving exploitation of an elderly John's Island couple by their caregiver, is still awaiting trial. Former nursing assistant Sophia Monae Shepherd, aka Sophia Brown, is accused of stealing nearly $200,000 from employers Alfred and Michelina Martinelli by making fraudulent purchases on their credit card over an eight-month period in 2017. Shepherd's sister Chiquita Lashae McGee was convicted in March and sentenced to 12 years for her crimes against the 80-plus-year-old Martinellis, but Brown's case is still pending, with no trial date in sight.
How long will Michael Gianfrancesco's family need to wait to see the trial of Jamie Jarvontae Williams on vehicular homicide charges for killing the South Barrier Island resident and his dog as they were walking along the shoulder of Highway A1A in May 2021?
The court in Fort Pierce has not even found Williams guilty of Violation of Probation yet for being outside St. Lucie County the evening of the crash without permission from his probation officer – despite the fact that several Indian River County Sheriff's deputies plus the Florida Highway Patrol identified Williams as the driver of the vehicle, which was clearly in Indian River County.
As the community marked another Vero Beach Christmas Parade last weekend, island resident Susan Harvey, the driver charged with driving drunk into the crowd of pedestrians on Ocean Drive at the 2021 parade, striking an elderly couple and leaving the scene, was still out on $50,000 bond, awaiting trial.
How long will the parishioners of Holy Cross Catholic Church who donated hundreds of thousands of dollars in the collection plate over the years – money they thought was supporting charitable works of their church, but was being siphoned-off into an off-book bank account – need to wait to see alleged thief Deborah True face trial for the crimes for which she is accused of committing over the past decade when she was the church administrator? Will True broker a sweet plea deal like Starkweather?
With every year that passes between a criminal offense and the alleged offender going to trial, memories fade, law enforcement officers move on or retire, witnesses and victims relocate or even die waiting to offer their testimony. The accused either sit in a jail cell waiting, or out in the community, sometimes under community control with an ankle bracelet, or living their lives in relative freedom, but with a felony accusation hanging over their heads.
"They deserve their day in court, and to have their trial, regardless of the outcome," Meadows said of the defendants who come before him.
Everyone involved in the felony court system in Indian River County deserves the closure and peace of mind that only a conviction or an acquittal can bring.