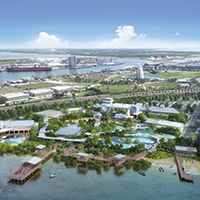 'World-class' aquarium coming to the Indian River
STORY BY STEVEN M. THOMAS (Week of December 29, 2022)

Brevard Zoo is more than halfway through a $100-million fundraising campaign to build an extraordinary aquarium and lagoon science center across from the cruise port in Cape Canaveral, and it is turning to 32963 philanthropists to help push it over the top.
"When you hear the details of their plan, all you can say is 'wow.' It is just amazing," said Marine Bank president Bill Penney, who is helping the zoo arrange "show and tell" meetings with potential donors. "I believe the aquarium will be a transformative regional project."
"As far as I know, it is the only aquarium in the country that will spring up in the midst of the ecosystem it aims to rescue," said Keith Winsten, executive director of Brevard Zoo and the East Coast Zoological Society, which operates the zoo and will build and run the aquarium.
"Most aquariums are big concrete boxes that have to deal with winter, but ours will be much more immersive, putting people into the ecosystems instead of having them looking at animals through acrylic barriers," Winsten told Vero Beach 32963 last week.
Spread out on 14 acres of Port Authority land on the shore of the Banana River, the aquarium "will really be a series of habitat adventures we take you on.  We walk you through the dunes as you enter and then take you through a whole sea turtle complex, to see animals in rehab and those ready to go back into the ocean," Winsten said.
"There is an outdoor shark experience where it is like you are walking in the flats with them swimming around you and you can actually get in the water with the rays."
Winsten said he expects the aquarium to open in late 2026 or early 2027, and attract about half a million visitors a year. The Zoological Society will donate a dollar from each admission ticket to the Indian River Lagoon National Estuary Program to help fund additional research and restoration along the endangered waterway.
"It is a fantastic project that will speed up lagoon restoration and awaken people to the wonder of this aquatic system," said Indian River County District 1 Commissioner Susan Adams. "The aquarium will take people into our local ecological systems and open their eyes to how special it is and how important to save it. The people involved are very highly regarded with great depth of knowledge."
Along with Penney and island resident Scott Deal, founder of Maverick Boat Group, Adams is spreading the word about the project and helping organize meetings where the zoo's visionary staff "tell the story" of the aquarium and seek support for it.
The Zoological Society launched its capital campaign a year ago, and has raised $56 million, according to major gifts officer Brandy Bean.
Penney and his IRC cohorts hosted several informational meetings on the island last season for small, hand-picked groups of possible donors, and more meetings are coming up this season at Sea Oaks, Orchid Island Golf and Beach Club and other locations, including one in the Quail Valley River Club boathouse.
Penney is curating a list of "20 to 30" people he thinks might want to support the aquarium.
The zoo's outreach to Indian River County doesn't come out of the blue. The East Coast Zoological Society already has strong ties to the island and the rest of the county.
"There are more zoo members in Indian River County than anyplace else except Brevard County," he said. "We are Indian River County's zoo. We think people will embrace the aquarium the same way."
Zoo staff have helped forge that connection in recent years by working on a wide range of conservation and lagoon restoration projects in Indian River County in partnership with local organizations such as the Indian River Land Trust.
From planting seagrass and rescuing oyster beds in Sebastian, to planting 220,000 water-filtering clams last December and working with the Land Trust to develop environmental education programs at the Trust's Coastal Oaks Preserve, zoo scientists and volunteers are seen frequently here along the shores of the lagoon.
"Our biggest impact in Indian River County probably is our sea turtle rehab program," Winsten said. "We built a sea turtle healing center in 2014 where we have cared for at least 120 sick or injured turtles from Indian River County.
"Our beaches are one of the most important turtle nesting areas in the world so it was a natural for us. We will have a second sea turtle healing center at the aquarium with a world-class veterinary staff" and sophisticated equipment such as a just-acquired MRI machine to see inside what Winsten calls "the black box" of the heavily armored marine mammals.
Also at the aquarium will be a three-story science center with wet labs and other facilities for visiting scientists from universities doing research along the lagoon; labs and classrooms for students as part of a high-powered educational program; meeting space for volunteer groups and nonprofits focused on lagoon health; and a manatee rescue and rehabilitation center. 
"It is the science and research element that is most important, I think," said Deal, an avid angler who recently sold for $150 million the in-shore boat business he built on the once-clear waters of the lagoon.
"It'll be the only major aquarium on the east coast of Florida and it will be great to have it just an hour away, as a place to take your kids or visitors," Deal noted. "But having a brick-and-mortar headquarters for lagoon science that generates a steady stream of income to fund research is paramount. I believe it will have national implications [for other ailing coastal waters].
"It is patently obvious to anyone who is paying attention that the lagoon is in big trouble. A lot of people are working to save it, but it is all grant to grant, and grants are very proscriptive, with set beginning and ending dates and little flexibility.
"The zoo, which is independent, has a proven entrepreneurial business model that throws off enough cash to support major research programs continuously. To me that has a lot more stability and legs than going around with a little tin cup to get grants.
"The lagoon has been very good to me and my family and I want to do whatever I can to help," added Deal. "With the aquarium, we have a chance to make a difference, not just in Brevard but throughout the entire estuary.
The Zoological Society has a development deal with Port Canaveral Port Authority that requires it to break ground by October 2024, so the pressure is on to complete fundraising, engineering and design.
Of the $100 million capital fund, $85 million will go to create the aquarium. The other $15 million will fund expansion of conservation, education and animal care at Brevard Zoo.
The Indian River Lagoon stretches for more than 120 miles, from Titusville to Stuart, and was long known as the most biodiverse estuary in the United States, with more than 4,000 plant and animal species. In the past decade pollution has heavily impacted the waterway's ecology, resulting in massive fish kills, marine mammal deaths, and loss of water clarity and seagrass.
Brevard Zoo is a 75-acre nonprofit facility located on North Wickham Road in Melbourne that is home to more than 900 animals representing more than 195 species from Florida, South America, Africa, Asia, and Australia. Opened in 1994, it frequently ranks in polls among the top 10 zoos in the country.