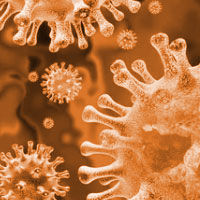 Covid claims 45 more lives here since Christmas
STORY BY LISA ZAHNER (Week of February 10, 2022)

While the number of new COVID-19 infections reported to the Florida Department of Health declined another 41 percent last week, Indian River County is not coming out of the Omicron-variant surge unscathed. At least 45 local residents died of Covid since Christmas.
According to the Centers for Disease Control and Prevention, 11 Indian River County Covid-positive residents died between Jan. 30 and Feb. 6, on top of five deaths the previous week.
On average, one local Covid-positive resident has died every day since Dec. 25, bring the countywide death toll to 615, based upon Florida Department of Health reports and the CDC's Covid Data Tracker. To put those numbers into perspective, the Delta variant surge killed 33 local people in one week in mid-August.
While nearly one-third of the county's total COVID-19 deaths since the pandemic began have been residents of long-term-care facilities, only one-fifth of the deaths of COVID-19 positive people between Christmas and Jan. 29 were people from local nursing homes and assisted-living facilities.
According to CDC data, the number of new hospital admissions improved somewhat, dropping to 24 per week from 31 the previous seven days.
Though the number of new cases documented by the health department has plummeted 65 percent from our all-time high of 2,225 on Jan. 13 to 758 on the Feb. 3 report, Indian River County still sits at a 20 percent positivity rate – meaning one out of five people tested get a positive test result – and community spread is still characterized as high by the CDC.
Public health officials throughout the pandemic have used a 10 percent positivity rate as a reference point for COVID-19 spread becoming serious in a community, so until Indian River County is safely in the single digits for a stretch of weeks or even months, the virus is handily spreading throughout schools, clubs and workplaces.
Indian River County remained at or below the 10 percent positivity rate mark for nearly 10 weeks from late September to mid-December, the brief respite between Delta and Omicron.
Since March 2020, more than 31,000 locals have tested positive for COVID-19, making up roughly 20 percent of the county's population. Some 76 percent, or 117,000 Indian River County residents,  have been vaccinated against the virus.
The two age groups with the most infections reported are 25 to 34 years old, and 55 to 64 years old, which together make up 28 percent of all cases. The 65 to 74 age group and the 75-plus age group each account for 10 percent of cases.