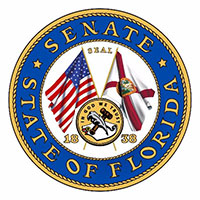 Florida Senate proposing drastic cuts in support for arts
STORY BY SAMANTHA ROHLFING BAITA (Week of February 24, 2022)

Vero's cultural community mobilized last week as word spread that the state's budget appropriation for the arts was in danger of being slashed. 
The distressing information was relayed by Alicia Quinn, board chairman of the Cultural Council of Indian River County, via the council website and emails to all 500-plus council members.
In what could be a significant hit to many art and culture nonprofits, or a fatal blow to some, Quinn said the Florida Senate, "is recommending arts funding at 9 percent of the amount requested from the Florida Division of Arts and Culture," which administers grants to the state's arts and culture entities.  
And this, she noted with irony, is in a year when the state is looking at $4 billion in surplus revenues.
The Florida House recommendations, on the other hand, are in line with past grant awards, and the comparison is stark: For example, the House is recommending 70 percent of the total cultural and museum grant requests, compared to the Senate's recommendation of .3 percent.
In numbers, the House included $32.4 million compared to only $136,438 in the Senate. The two bodies must come to an agreement on a final budget for the appropriation to move forward to Gov. Ron DeSantis.
Using the Senate's version of the budget figures, only 12 out of the 752 existing state grants offered could be funded, Quinn says.
The figure seems so absurd that during Quinn's recent conversation with District 17 State Sen. Debbie Mayfield, who serves as Senate majority leader this session, Mayfield suggested that perhaps the figure was "a scrivener error."  Quinn says she felt that Mayfield would not support the Senate committee's proposal.
Indian River County arts nonprofits that benefit from a total of nearly $300,000 in state grant funding include McKee Botanical Garden, Riverside Theatre, Vero Beach Museum of Art, Vero Beach Theatre Guild, Ballet Vero Beach and the Cultural Council. Most grants range from $18,000 to $78,000. 
Vero Beach Art Club President Paulette Visceglia  was frustrated. "In the Art Club's 86 years, we've never applied for a grant. This was our first time. We applied for $35,000. We're planning to build the children's program and begin a junior membership program," she said.
Louise Kennedy, CEO of the Laura Riding Jackson Foundation, expects one of the major impacts of such severe funding cuts will be an already extremely competitive grant process among the many local nonprofits becoming exponentially more so.
Because the grant process is very lengthy, a nonprofit may decide not to spend so much time applying for a grant it has little chance of winning but, rather, invest more time in fundraising.
Thus, because "private donations are the lifeblood on nonprofits," Kennedy postulated, "a response to cuts in grant funds would lead to a greater push into private donations." Already, she notes, many of the private donors to local nonprofits are snowbirds, and are giving in two communities.
Another, longer-term response, in Kennedy's opinion, would be collaboration among nonprofits, many of whom provide overlapping services: Joining forces, she says, would likely be a good thing in the long run.
Riverside Theatre and the Vero Beach Museum of Art have both been grant recipients. But Oscar Sales, Riverside's marketing director, and museum marketing director Sophie Bentham-Wood say the amounts are a very small part of their budgets, calling them "helpful but not crucial."
The Senate-proposed funding slash "would mean a loss of a $25,000 grant for Ballet Vero Beach," says Artistic Director and CEO Adam Schnell.
"We've been down this road before, and we never count on state funding to build budgets, but fully funding the Division of Arts and Culture's request amounts to less than 1 percent of the state budget. We know citizens of the state have an appetite for arts and culture, and we can't understand in a year of such a surplus what is going on."
Quinn notes other potential fallout: The Florida Chamber of Commerce includes the arts and cultural industry in the sector that saw a 90 percent job loss due to the COVID-19 pandemic. 
"It's already devastated our industry, caused closures across the country.  Indian River County grantees are working hard to hold on to their 203 of the 15,376 Florida jobs that these grants support," she said.
With only a week to go in the legislative session, the county's diverse, highly respected arts and cultural community will be holding its collective breath and hoping the threat turns out indeed to be a scrivener error.