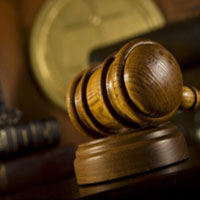 Gold jewelry, exotic cars, luxury hotels figure in trial of caregivers for elderly island couple
STORY BY LISA ZAHNER (Week of February 10, 2022)

A staggering amount of evidence is expected to be used later this month against former home-health nursing assistant Chiquita LaShae McGee when she goes on trial for exploiting an elderly John's Island couple for 10 months in 2017.
Assistant State Attorney Lev Evans recently sent the court a list of allegedly fraudulent credit-card transactions – totaling more than $115,000 – that he intends to enter into evidence at trial.
The arrest warrant affidavit accuses McGee of taking pleasure trips to New York and Miami, and purchasing pricey electronics, gold jewelry, sporting goods and apparel for herself and for family members.
The credit card charges on the list don't seem to fit the lifestyle of McGee's patients, 89-year-old Alfred Martinelli and his wife, then-86-year-old Michelina Martinelli.   Vero Beach internist Dr. Garrick Kantzler is expected to testify that both had dementia at the time, and it was noted in their medical records.
First on the list of purchases are 18 gold chains, bracelets and charms bought from Piercing Pagoda totaling $3,889. Then there were two iPhones at $719 each, three Apple watches ranging in price from $329 to $399 each, and a smart television set from Best Buy.
There were also $3,247 in Avis and Budget car rentals, $9,213 in luxury and exotic car rentals including a Rolls Royce from MPH Car Club, a $1,369 stay at The Plaza in New York, two nights at The Bentley hotel in Miami for $1,012, plus $1,702 in home furnishings from Own It Now.
But the most confounding purchases made with the credit cards of two 80-somethings were racked up on 47 trips to Champs Sporting Goods, where a total of $19,262 worth of merchandise was charged.
Court records say McGee and her co-defendant and sister, Sophia Monae Shepherd (aka Sophia Brown), were authorized to use a credit card to buy necessary items for Alfred Martinelli. But police say that plan went awry due to Michelina Martinelli's dementia.
The investigation found not only the credit card purchases, but also $85,000 in checks made out to McGee from the Martinellis' bank account. Confused, Michelina Martinelli told police she thought the CNAs were charging items for her husband to their own credit cards, so she would ask them how much they spent and reimburse them by check, without asking for receipts.
The CNAs were fired from Indian River Home Health after the Martinellis' daughter reported them. Susan Shea also filed a Florida Healthcare Provider Complaint with the state.
Three Indian River Shores Public Safety officers worked to assemble the evidence that led to an arrest warrant for McGee and Shepherd in January 2018. Det. Ken Barrett, Sgt. Kip Benham, and Det. Rodney Grass conducted interviews, gathered bank records and interviewed store employees where McGee and Shepherd are accused of making fraudulent charges on the Martinellis' credit cards.
Not surprisingly given their more than $19,000 in purchases, the Champs store manager remembered and positively identified McGee and Shepherd, as did other store clerks.
Arrest documents say the CNAs also charged a Carnival cruise to the Bahamas, a diamond ring from Zales Jewelers and lingerie from Victoria's Secret. They are accused of charging cosmetic surgery, legal bills and buying gold by the ounce for an investment.
Indian River Shores Deputy Chief Mark Shaw said only Det. Bennett, who joined the Shores' force after a long career with the Vero Beach Police Department, is expected to testify at the trial, but he praised everyone who worked to build the case.
"Ken and our team of investigators put a phenomenal amount of time and energy into this case. Ultimately, we hope to get closure for the victim and family," Shaw said.
Prosecutor Evans said he expects the trial – his last case before he retires – to span one week. McGee's private defense attorney, James Regan of Fort Pierce, a former prosecutor and colleague of Evans, was not available Monday for comment.
McGee's co-defendant Shepherd recently changed defense attorneys, delaying her trial.
Attorney Bob Stone had to bow out due to a chronic health problem, so Shepherd is being represented by Assistant Public Defender Dorothy Naumann.