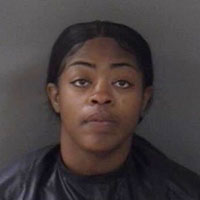 Home health aide for elderly couple pleads no contest
STORY BY LISA ZAHNER (Week of February 24, 2022)
Photo of Chiquita Lashae McGee

Moments before jury selection was to begin, defendant and former home health aide Chiquita Lashae McGee decided not to take her chances with a jury deciding whether she'd charged hundreds of thousands of dollars of trips, luxury goods and dozens of pairs of shoes to the credit card of two John's Island octogenarians in her care.
With both sides ready to try the case, and Assistant State Attorney Lev Evans prepared to wheel in 10 large blue recycling totes full of colorful and expensive ill-gotten merchandise for a show-and-tell with the jury, McGee's defense attorney James Regan asked to negotiate a plea deal. A negotiated plea deal would have given McGee some certainty as to how many years she'd spend in prison, but for Evans, it was way too late in the four-year-old case.
"We have a policy of not negotiating pleas on trial day," he said after the hearing Monday morning.
After conferring with legal counsel, McGee took what's called an "open plea" by which she entered a plea of "no contest" before Circuit Court Judge Dan Vaughn, subjecting herself to Florida's sentencing guidelines and Vaughn's mercy on March 24 when he will hand down her sentence.
Court records say the mandatory minimum sentence for the first-degree felony exploitation of the elderly plus the second-degree felony scheme to defraud a financial institution is 37 months, with the maximum sentence Vaughn could impose being 45 years.
Family and friends of McGee are expected to write letters to Vaughn or testify asking for leniency for the 33-year-old mother. Family members and friends of the victims, Michelina Martinelli and her late husband Alfred, are expected to plead with Vaughn for stiff punishment at the sentencing hearing.
Meanwhile the dozens of pairs of pricey sneakers and high-heeled shoes, plus deck shoes, hiking boots, designer perfume and handbags, iPhones and Apple watches, televisions, jewelry and clothing seized from McGee's home when police served a search warrant went back into lockup.
The cruises, exotic-car rentals, casino trips and cosmetic surgery could not be physically seized but are documented by receipts and contracts.
McGee's arrest warrant affidavit alleges that, through a combination of credit card purchases and fraudulently obtained checks from the Martinellis, McGee made away with more than $300,000 in cash, merchandise and services.
Evans said the open plea McGee took does not compel her to testify against her sister and co-defendant, Sophia Monae Shepherd (aka Sophia Brown), and when Shepherd goes to trial, her jury will not be aware that co-defendant McGee has already taken a plea for her part in the crimes. "No, that won't be brought up," Evans said.
The trial was to be Evans' final one before retiring, but he said on Monday that he's put off his official retirement day until March 31 to be present for McGee's sentencing.
Indian River Shores Public Safety Director Chief Rich Rosell declined to comment on the case until after sentencing. Numerous Shores Public Safety Department officers worked on the case, with the investigation being headed up by Det. Ken Barrett.