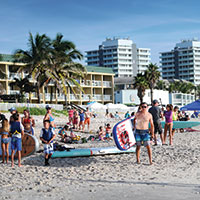 Island filling up as holiday weekend approaches
STORY BY LISA ZAHNER (Week of February 17, 2022)

Frigid northern weather – combined with fatigue over big-city mask mandates and vaccine passports, and steep drops in COVID-19 infection rates here – were making Vero Beach a hot ticket this past week, with the island virtually booked solid for the Presidents' Day weekend.
Local residents who hope to dine out beachside, or put up visiting guests at an island hotel, may very well find themselves out of luck. 
Reservations will be tough to come by on an island packed with sun-seekers. The weekend forecast for them was promising.
Chef Leanne Kelleher, owner of The Tides Restaurant on Cardinal Drive, said she has been entertaining a record number of dining guests, and she doesn't see things slowing down as winter turns to spring.
"We are busier than ever before. We've been sold out for the month of February and every weekend and most weekdays in March," she said. "Easter is almost sold out and Mother's Day is also getting full. 
"At this point we are thrilled and happy to report that The Tides is the busiest we've been in 22 years, and we are loving the continued support all of our loyal customers and meeting all of our new friends from all over the country as well," Kelleher said.
General Manager Chad Olson is seeing the same type of traffic at Costa d'Este hotel. "We are anticipating full capacity all weekend," he said.
Vero's barrier island and the county's 22 miles of uncrowded beaches have long served as a welcoming haven both for northerners who jet down for a week at the shore, or drive up from South Florida to escape the concrete jungle for a romantic weekend.
Previously, visitors during season would ebb and flow, but there hasn't been much of a break this year, Olson said. "Presidents' Day weekend is always that 'kick off' to season – not that we have really slowed down though."
The Vero Beach Hotel and Spa has also been hosting a mix of Floridians and guests from the Northeast, according to General Manager Awet Sium.
"We're sold out this weekend, and all of our weekends in February," said Sium.  "It's a great time to be in Florida."
Boris Gonzalez, owner of the Caribbean Court Boutique Hotel on Vero's South Beach, said he expects to have a full house with guests "from all over."
"It's the best season we've ever had," Gonzalez said. He added that many of his rooms are booked through mid-April.