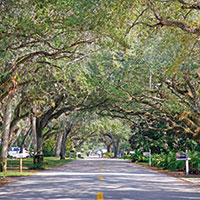 Million Dollar Island
STORY BY STEVEN M. THOMAS (Week of February 10, 2022)

If Thurston Howell III ran aground on the Riomar Reef and paddled ashore with Gilligan and the Skipper, he would feel right at home on Vero's barrier island these days among residents who – even if they aren't all multi-millionaires like him – do mostly wake up in the morning in million-dollar houses.
"There is nothing in Central Beach, east or west of A1A, for under a million," said Buzz MacWilliam, broker at AMAC Alex MacWilliam, Inc., the oldest real estate agency on the island.
It was Jan. 27 and MacWilliam was sitting behind his desk in his office on Ocean Drive, looking at MLS data. "The lowest price is $1,095,000 for a 3-bedroom, 2-bath on Indian River Drive and the highest price in Central Beach is $2,385,000 for a 4-bedroom, 3-bath on Gayfeather."
And Central Beach is not an anomaly.
"The lowest price in Riomar is my listing at 1971 Club Dr. at $2,345,000, which is basically lot value," said Charlotte Terry, the top luxury agent at AMAC. "From there it jumps to $5.9 million, then $7.9 million and then up to $18 million for a property on the ocean."
"I just checked, and there's nothing in Castaway Cove for under a million," said Kit Fields, a fourth-generation Vero resident and AMAC agent who lives on Painted Bunting in Riomar.
Likewise, there are no single-family detached homes in The Moorings for under $1 million, and it goes without saying that price point is only a distant memory in John's Island.
As of 9 a.m. on Monday, Feb. 7 there were only seven houses in the entire 32963 area for under $1 million, according Zillow.com. They were priced from $699,000 for a little 950-square-foot house in Summerplace to $900,000 for a 3-bedroom, 2-bath on Anglers Lane in South Beach.
With inventory down to a one-month supply in Vero Beach, most of those remnant, under-a-million homes will likely be under contract by the time this article is published.
"The whole island is basically luxury at this point," said Dale Sorensen Jr., managing partner for Dale Sorensen Real Estate.
The shift to an exclusively $1-million-and-up housing market happened suddenly, in the first half of 2021. Prices had been rising steadily through the fall and winter of 2020 but early in the new year, an afterburner kicked in as cash buyers flooded the island market as part of the ongoing pandemic migration.
"That is when things really took off," said MacWilliam.
"The first million-dollar sale [of a basic 3-bedroom, 2-bath house] in Central Beach shows up in our MLS in April 2021," said Fields. "It probably went under contract in late February or early March."
Nowhere has the dramatic jump in values been more striking than in Central Beach.
A 20-block section that extends from Holy Cross Catholic Church in the south to Jaycee Park in the north, filling most of the space between the beach and the lagoon, Central Beach was the islands "affordable" section for decades, a middle-class haven filled with retirees and families living a breezy, seaside lifestyle side-by-side.
"When I got my real estate license in 1982, Central Beach houses were selling for $100,000 to $150,000," said MacWilliam. "I bought my first home from my uncle in the 1980s for $120,000. It was on Ocean Drive on the cusp of Riomar and Central Beach. I put another $20,000 into remodeling it and had a house with a brand-new roof, new windows, new floors, new bathrooms, everything. That was my bachelor pad for three or four years."
"Even 10 or 12 years ago, you could get a little house in Central Beach for $200,000," said Richard Boga at Premier Estate Properties. "It might not have been in great condition, but you could get a house, and there was a lot to choose from at $300,000."
Fields said that when she started in real estate in 2016, the average price in Central Beach was up to $500,000.
By the second half of 2021, that average had hot up to $949,000, according to MLS data provided by MacWilliam that shows Central Beach sales between July 1 and Dec. 31.
"I sold a house in Central Beach as the market was starting to accelerate but before it got really hot," said Terry. "It was a 2-bedroom, 2-bath, no pool, very neat, very tidy, with a 2-car garage, that went for $625,000.
"Six months later, when the new owners decided to sell, I told them the market had gone up and suggested $750,000 as a list price. They called back and said they wanted to list for $995,000 and we ended up getting $875,000 for it. That was my lesson that we were in a whole new world in terms of prices."
Fields told a similar story about a house on Iris, east of A1A. "Cheryl Gerstner and I listed it in August 2020 and a young couple – he was doctor – bought it for just under $1 million. It was very outdated, and they planned to remodel to make a nice family home."
When the couple got bids for renovation "the cost was so extreme that they put it back on the market for $1.2 million. It sold quickly for $1,000,000." All within a matter of weeks.
Besides the pandemic flight of buyers from congested urban areas to attractive small towns, and the advent of "work from anywhere," the land-rush atmosphere in Central Beach is fueled by its walkability, according to island brokers.
"My Central Beach buyers love the village feel, being close to restaurants and shops and being able to walk down to Cardinal or Ocean and get their coffee in the morning," said Fields.
"Being close to town has become much more popular in recent years," said Terry, who sees some clients moving into Central Beach from gated communities on the island to be closer to the action.
"I have a couple of clients who lived in Windsor for many years, like 30 years, and at a certain point they were not playing golf anymore or using many of the facilities and didn't want to keep paying all the fees, so they have moved to Central Beach to be close to everything" – the theater, museum, dog park, marina, banks and other services, as well as shopping and dining.
"Boomers like to walk and be in the thick of things. They are more active and athletic than their parents were," she said.
"People are frantically buying up properties," said Premier Estate Properties broker associate Cindy O'Dare. "And they aren't speculators or investors. They are people who are really moving here and establishing themselves in Vero Beach."
The helium in island home prices is a challenge for those who want to move here, but it is great for sellers – and for partners O'Dare and Boga.
Premier Estate Properties only sells homes priced at $1 million or more and 10 years ago that limited the partners to a select slice of the island market. Now they can list and sell pretty much any house on island.
"The whole time I have been here with Premier my bread and butter has been homes priced $1 million to $3 million," said O'Dare. "Those are the listings Richard and I need that we can sell all day long, and there are more of those houses now."
O'Dare called the sudden increase in island prices "incredible," but said she is not shocked by million-dollar homes in Central Beach.
"I always thought we would go to a million and up in Vero because of what I've seen in Naples, which is one of our main competing markets. Buyers who look there often look here, too, and they have a little walkable residential area near their downtown very similar to Central Beach.
"I worked on some deals over there with Naples agents about seven years ago and learned a lot about the market. Teardowns were going for $1 million to $2 million then and I have watched prices go up, up, up to where those houses are now selling for $4 million or $5 million."
With those kind of prices in Naples and little island homes near downtown Palm Beach even more expensive, O'Dare expects values in Central Beach and nearby neighborhoods to stay on an upward trajectory, as does her partner who recently purchased a home in Central Beach.
Boga, who has a house in Vero Isles, says he pulled the trigger on a 3-bedroom, 2-bath in $900,000s because he saw it as his last chance to get into the neighborhood for under a million in case he ever decides he wants to live in or build a home on the island.
Terry and Fields see it the same way.
"I don't see our prices going down," Terry said. "There is too much demand for our extremely limited inventory for that to happen."
Fields mentions a home on Riomar Drive that sold for $243,000 in 1989 and just resold in August for $2.2 million. "The new owners are pouring money into it." Fields said, suggesting that the renovations are a smart investment. "You really can't over-improve in Riomar."
"The Wall Street Journal and realtor.com analyze the 300 largest metropolitan areas across the country to highlight the housing markets poised to [most] benefit homeowners and investors," according to a Jan. 26 article on marketwatch.com.
"The top emerging markets represent the places where home-price growth is expected to be stellar, while also having other attractive amenities," and Vero Beach is among the top 20.
MacWilliam scoffs a little bit at the term "emerging."
"People have been saying Vero Beach is an emerging market 30 years, ever since Windsor came out of the ground in 1989 and Prince Charles came a few times. Then the Broadway star Bernadette Peters and Gloria Estefan came, and it was the same thing, 'Oh, Vero Beach is emerging.' We are always emerging! But, in fact, I think we have emerged!" 
It would seem so, with steady coverage in the national real estate press, a continuing flood of high-end cash buyers from all over the country and multiple homes selling for more than $20 million in the past two years.
If he came ashore here, Thurston Howell – who Forbes Magazine identified in a 2006 list as one of the 15 richest fictional characters – would gravitate to the $20 million-and-up social set, but he would probably feel OK adjusting his ascot in a Central Beach house, too, on occasion, knowing that he was in a million-dollar neighborhood, even if his hosts didn't belong to Newport Country Club or Oyster Bay Yacht Club like he and Lovey.