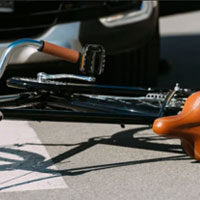 No criminal charges seen in crash that killed bicyclist
STORY BY RAY McNULTY (Week of February 24, 2022)

Nine months after John's Island resident Carl Cutler was fatally struck by a car while bicycling along the northern tier of Highway A1A, the Florida Highway Patrol's traffic homicide investigation report still hasn't been released to the public.
However, the FHP captain assigned to Troop L's Fort Pierce station said he has read the report and the investigation found no evidence the car's driver, John Joseph Rampp, committed any criminal offense.
"From what I'm looking at, there's nothing in the report that would deem the driver's actions as criminal," FHP Capt. Allen Sapp said. "I don't see anything about pending test results, so I don't expect our findings to change.
"The driver probably will be cited for a traffic violation," he added, "but nothing has been issued yet."
Sapp said he hopes to see the investigation formally closed and the report, which is still pending administrative review, released for public inspection within the next couple of weeks, after the FHP homicide investigator handling the case returns from maternity leave.
Troop L is responsible for policing the state roads, including interstate highways, in four counties – Indian River, St. Lucie, Martin and Okeechobee – where Sapp said there are 65 open traffic homicide cases.
He said his station had been operating with only two homicide investigators for months until a third investigator was assigned in August.
"We're trying to play catch-up, but as everyone knows, the traffic in this area continues to increase, which increases the number of accidents, including fatalities," Sapp said. "The criminal cases take priority."
He said the investigator working last May's car-versus-bicycle crash "got assigned to another case," but he didn't specify which one.
It's likely, though, that the FHP investigator handling the Rampp-Cutler case was forced to divert his attention to the crash that occurred two days later on the southern tier of A1A, where the driver of a speeding car veered off the roadway and fatally struck Michael Gianfrancesco, who was walking his dog near his home in The Dunes community.
The FHP completed its investigation in that case in September, when the driver, Jamie Jarvontae Williams of Fort Pierce, was charged with vehicular homicide in Indian River County and violation-of-probation in St. Lucie County – both in connection with the 8 p.m. Memorial Day crash here.
According to the FHP's initial report on the May 29 crash that killed bicyclist Cutler: Rampp, then 49, was driving north on A1A at 10 a.m. when he swerved off the roadway and onto the paved shoulder.
There, the front-right section of his 2010 Nissan coupe collided with Cutler, who was pedaling north in the bike lane near the Pelican Island Wildlife Sanctuary.
Cutler, 63, a retired investment banker who split his time between the Greater Philadelphia area and Vero Beach, was knocked onto the grassy area alongside the roadway. He was pronounced dead 40 minutes later at Sebastian River Medical Center.
The FHP's report stated that Cutler was wearing a helmet and was in no way at fault for the crash.
A Vero Beach 32963 investigation into Rampp's driving record revealed in November that he has a long history of traffic offenses – dating back to 1988 – and twice had his license suspended.
In Brevard County, where he lived for more than 30 years before moving to Vero Lake Estates, he was cited twice for driving without knowledge that his license had been suspended, five times for speeding, three times for operating an unsafe vehicle, twice for running a stop sign or signal, twice for not wearing a seatbelt, and once each for careless driving, failure to yield, and defacing or driving around detours.
The FHP crash report stated that Rampp's car had no mechanical defects and he had his seatbelt buckled, traveling an estimated 50 mph in a 50-mph zone in clear, dry conditions.
Describing Rampp's action that resulted in the crash, the report stated he was driving in a "careless or negligent manner" when he "failed to keep in the proper lane" and "ran off the roadway."
There was no mention of any citation issued at the scene, however, only that Rampp refused an alcohol and drug test – which was puzzling, given that the trooper who filed the report indicated the driver was not suspected of alcohol or drug use.
Under Florida's implied-consent law: If a driver refuses to take a breathalyzer test, he or she is subject to a mandatory one-year license suspension for the first offense.
Such action, though, can be challenged in court.