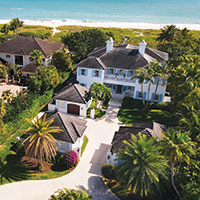 Riomar home goes under contract for an astonishing price
STORY BY STEVEN M. THOMAS (Week of February 24, 2022)

The island real estate market continues to astonish buyers, sellers and brokers as the 2022 season gets underway.
In the latest stunner, an oceanfront home in Riomar that sold for $4,425,000 two years ago and was put back on the market for $18 million in November went under contract in January for close to the asking price.
If it closes in March as expected, the deal will shatter the record for the highest price ever paid for a house in Riomar.
"It is incomprehensible," said Matilde Sorensen, broker at Dale Sorensen Real Estate, who handled both sides of both sales at 1804 Ocean Dr. "I ask people all the time where all this money is coming from. I guess it is the stock market. Luxury buyers have made billions and billions of dollars."
The sellers in the deal, who have moved to London, were Adrian Lismore, an international businessman, and Alexander Cepero, owner of an architecture and design firm that has done projects in Miami, New York City, London and the Bahamas.
Sorensen said that the buyers are "a wonderful family from Boston who are looking forward to being part of the Vero Beach community."
The buyers knew what the house sold for previously, but weren't concerned about that data point.
"They looked in Palm Beach and Naples where prices are much higher and saw value here," said Sorensen. "They wanted to be in Vero, they wanted to be on the ocean with an accreting beach, and they wanted to be in Riomar."
Only one house was available that fit all those criteria, which put the sellers in the ultimate power position in the age-old dynamic of supply and demand.
"The sellers have lived around the world and were familiar with prices in Palm Beach and Naples and other competing markets, and believed the house was worth $18 million."
Sorensen said that in the past, she would have talked the sellers down from the ledge, telling them they were asking too much when they proposed a listing price four times what they paid for the house 22 months earlier.
In the current market, though, with homes bringing unprecedented prices up and down the island, she shrugged and said, "Let's give it try."
And the sellers' intuition about the home's value turned out to be correct.
Sorensen said that in the short time it was on the market, there were eight serious, qualified buyers who considered purchasing the home. They produced three offers, including one for $12 million and the one that was accepted.
So the Boston buyer was not a unicorn. Other wealthy, sophisticated house-hunters were interested in the property, too, despite the dramatic price increase – and two of them wanted it bad enough to make big offers.
Supply and demand are at work everywhere on the island, as a swelling stream of pandemic buyers compete for a shrinking supply of Vero Beach homes, but nowhere more so than in Riomar.
There are only 16 oceanfront properties and about 160 homes total in the historic and picturesque neighborhood, which includes classic houses from the 1920s designed by an associate of Adison Mizner, and brand-new, world-class oceanfront estates.
Built around a historic country club with a seaside golf course, a brief bike ride away from restaurants and shops in Central Beach and South Beach, adjacent to a beautiful ocean park with a guarded beach, and close to mainland access via the Alma Lee Loy Bridge, Riomar has always commanded higher prices than nearby neighborhoods in Central Beach and Castaway Cove.
And those prices are appreciating faster.
Home values were up about 30 percent year-over-year in Vero Beach as a whole at the end of 2021, according to Zillow.com. But the average sales price in Riomar jumped 40 percent, from $2,073,003 in 2020 to $2,858,967 in 2021, according to MLS data provided by Sorensen.
"Riomar has always been one of the most desirable areas," Sorensen told Vero Beach 32963. "With the quaint canopied sandy roads and proximity to ocean and river, it is in great demand."
Especially along the ocean, where those 16 beachfront properties seem to have had real estate fairy dust sprinkled on them.
The current manic phase of the market was kicked off – or at least became suddenly apparent – last April, when a Riomar lot two doors down from 1804 Ocean sold for $5.5 million – $3 million more than it traded for just eight months earlier in July 2020.
The purchaser in that deal was a sophisticated buyer from Palm Beach who knew what the property had sold for nine months earlier and didn't care.
"My clients wanted to live on that stretch of Ocean Drive in Riomar where it's not busy traffic wise, yet still close to everything and feels like a real neighborhood," said Dale Sorensen Real Estate agent Cathy Curley, who listed and sold the property. "They will build a beautiful home there, confident that property values in Vero are likely to continue going up, up, up."
The beautiful, 6,714-square-foot British West Indies home at 1804 Ocean Dr. was built in 2012 and named "Mystique" by the original owners. It sits on a .63-acre lot with 100 linear feet of ocean frontage and includes six bedrooms, seven bathrooms, a guest house and seaside swimming pool.
"Inside the arched front doorway, walls of windows frame breathtaking ocean views from nearly every room. Exquisite and open living areas with gleaming hardwood floors and superbly crafted custom millwork and finishes lend warmth and artistry throughout the home," according to Matilde Sorensen's website.
"A gourmet kitchen, perfect for culinary creativity, opens to spacious living areas and spills onto the ground floor lanai leading to the pool deck and beach. Light-filled, indulgent and peaceful bedroom suites and the ultra-luxurious master bedroom suite have access to a second floor lanai with pool and ocean views.
"A deck walkway and delightful sandy path leads from the estate pool area to the secluded shoreline. Two gas-lit fireplaces, and a three-bay garage make this esteemed oceanfront residence the perfect retreat, located only minutes from island shopping, dining and entertainment."
Lismore and Cepero were the third owners. They bought the house in February 2020, about six months after Hurricane Dorian destroyed their home in the Bahamas.
Cepero had grown up in Vero Beach and knew Riomar was a special place.
"We were looking for a home with a backyard. When we saw this, we fell in love with it," Cepero told Vero Beach 32963. "The architecture is amazing. It's a beautiful house, one of only ... [a handful of] oceanfront properties in Old Riomar, and I've always wanted a British Colonial-style home."
He said he and Lismore enjoyed being able to ride their bikes to the island village for ice cream, dinner or a haircut.
The men did not do any major renovation while they lived in the house, but added value with upgrades and improvements.
"Everything can basically be controlled from the phone," said Cepero, including the pool, lighting, ceiling fans, thermostats, surround sound systems and even Wi-Fi access points through CAT-5 cabling.
Wanting to add color and character to the house, Cepero – who worked for the International Olympic Committee overseeing the construction and design of the Olympic Clubs for the Games in Sochi, Russia, and London – used his architecture and interior design expertise and flair for color to liven things up with what Sorensen calls "beautiful wallpaper, fixtures and furniture."
The upgrades added appeal when the time came to sell, but did not account for the extraordinary increase in value over a short period of time.
Instead, that jump appears to be due to overall pandemic market conditions, especially the desire of many high-end buyers to get out of big cities, the advent of widespread remote work and the massive increase in wealth among the richest households that Sorensen mentioned.
According to Forbes, 2021 was "another great year for billionaires. After a stellar 2020, when the super-rich added some $1.9 trillion to their collective wealth, the party continued in 2021, as billionaires around the globe got $1.6 trillion richer."
American billionaires "led the surge, adding a total of $945 billion to their fortunes this year as the S&P 500 jumped by 21 percent and the Nasdaq rose by 50 percent." Other high-end buyers who aren't quite billionaires got a richer, too.
The other X-factor is Vero Beach itself, which continues to ping louder on the radar of luxury buyers as friends, family and business associates of people moving here learn about the island's exceptional amenities and laid-back lifestyle.
"Vero Beach is not a hard sell," said Sorensen, who purchased her first Riomar home along with her husband Dale Sr. for $86,000 in 1974. "Vero Beach sells itself."