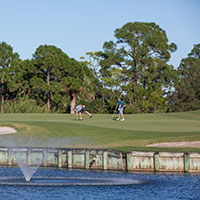 Sandridge golf course to build a new clubhouse
STORY BY RAY MCNULTY (Week of February 10, 2022)

Barring any setbacks, the county-owned and wildly successful Sandridge Golf Club will have a new 18,000-square-foot clubhouse – with a restaurant, bar and banquet facilities – in the fall of 2023.
The new clubhouse will be built in a now-vacant area northwest of the existing clubhouse, which will remain operational until the new place opens and then be leveled to create an expanded golf-cart staging area and additional parking.
In fact, the architectural design approved by the County Commission last week would increase Sandridge's parking capacity from 80 to 206 vehicles.
The plan also includes construction of a new 1,100-square-foot turn station immediately east of the practice green. The facility would offer grab-and-go food service, a unisex restroom and self-service breezeway where golfers can get water and ice.
According to longtime Sandridge golf director Bela Nagy, county officials are expected to begin seeking bids from construction firms in July and hope to break ground on the $5.5 million project early this fall.
The clubhouse project will be funded by user fees generated by Sandridge. If the user-fee funds aren't enough to cover the initial costs, the county will borrow money from another fund and Sandridge will pay it back using future revenues generated by the club.
"I'm excited," Nagy said. "I've been here for 27 years, and I'm not planning to go anywhere, but this will be my legacy."
Nagy said discussions about renovating and expanding Sandridge's existing clubhouse, which was built in 1992, began six years ago. It was during those talks that County Public Works Director Rich Szpryka, after evaluating the aging structure, recommended it be replaced.
County Administrator Jason Brown and the County Commission agreed.
"Whenever you evaluate a building, you look at all options," Szpryka said. "It's like evaluating a car: You have to decide whether it's worth fixing the one you have, or if you're better off buying a new one.
"When I evaluated that clubhouse, the best option was to build a new one."
The new clubhouse will be equipped with a commercial-grade kitchen and two banquet rooms, each of which will seat 100 people, as well as a restaurant and bar. It also will have a covered porch and 5,000-square-foot event lawn for outdoor festivities.
The banquet facility will overlook the 18th green of the Lakes Course, and the restaurant and bar will overlook the 10th green.
"We do over 40 golf events a year, but we don't have space for 150 people," Nagy said. "With the snack bar we have now, we can handle 60 people indoors and 70 outdoors. But it's just a snack bar.
"The new clubhouse will provide us with full banquet facilities," he added. "We also expect to attract new opportunities, such as weddings and other parties.
"This gives us the ability to have more events and generate more revenue."
More than 112,000 rounds of golf were played on Sandridge's two courses – the other is the Dunes – during the 2020-21 fiscal year.
As the county continues to grow, Nagy said he expects his numbers to do the same, adding, "We're experiencing an incredible surge in activity."
Acknowledging Sandridge's success, the County Commission unanimously supported moving forward with the project last week.
"The Sandridge location certainly has proven to be one of the more coveted governmentally operated golf courses in the state," Commissioner Joe Flescher said. "This shot in the arm will only improve its value and operations."