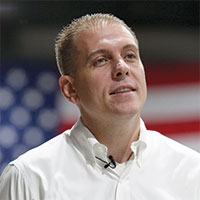 Sheriff Flowers hoping vague apology on Facebook will save his job
STORY BY RAY MCNULTY (Week of February 10, 2022)

Five days after Vero Beach 32963 reported that Sheriff Eric Flowers had been caught having an extramarital affair, he issued an in-house memo to his 500-plus employees Monday in which he apologized to his wife, to the agency and to the community for "not living up to my own personal high standards."
He later published the statement on his personal "Sheriff Eric Flowers" Facebook page – but not on the "Indian River County Sheriff's Office" Facebook page.
He did not face reporters at a news conference.
Flowers didn't mention the affair in his statement, which began with him writing that he was "publicly apologizing" to his wife, Rachel, and their family "for all the hurt, embarrassment and anger I caused."
He went on to state that he would not allow his "personal life and these challenges" to affect his job performance, adding that he will remain focused on leading the law enforcement agency.
He then inferred that he and his wife were attempting to keep their marriage intact – a change from his position last week, when he had told supporters the couple was headed for divorce.
"Rachel and I both appreciate all of the messages we have received," Flowers wrote, "but ask that you give us privacy as we work together on our marriage."
He closed his statement by writing: "I am sorry to all the agency and community members who I have disappointed, and I will work hard to earn your trust and support going forward."
Sheriff's Office spokesperson Debbie Carson said Flowers had no plans to face reporters at a news conference, and that Flowers would not comment publicly beyond the statement posted on his personal Facebook page.
She said the statement was not posted on the Sheriff's Office page because it was a "personal matter" and not agency business, adding that she had not been directed to notify the local news media.
By Monday afternoon, however, Flowers' statement had been posted on multiple social-media sites, including Facebook, where the 200-plus comments on his personal page ranged from supportive to hostile with many criticizing his hypocrisy.
Some cited Flowers' campaign promises and first speech after being sworn in 13 months ago at Holman Stadium, where he equated the deputies' oath of office to marriage vows and said he expected the deputies to reflect his values.
Others called for Flowers' resignation, writing that he couldn't be trusted and apologized only because he was desperate to keep his job.
Even the Press Journal, which huffily sought to pass off the story that Vero Beach 32963 broke a week ago as based on "rumors," found Flowers' statement insufficient, asking: "Should the public demand an explanation or an investigation?
"As Flowers has said he works 24/7, it would make sense for Flowers to be more open or the public to know more."
Sheriff's Detective Joe Karman, president of the Indian River Deputies Association, said Monday his organization had "no comment at this time" on how Flowers' betrayal of trust might impact his ability to lead the agency.
Flowers clearly hoped Monday that his Facebook posting had laid this matter to rest.  That struck many as unlikely.