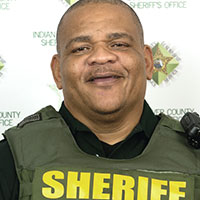 Shooting death of deputy remains unsolved
STORY BY RAY MCNULTY (Week of February 17, 2022)
Photo of Sheriff's Deputy Garry Chambliss

Today marks the five-year anniversary of the shooting death of off-duty Sheriff's Deputy Garry Chambliss, who was visiting family in his Gifford neighborhood  when struck by a stray bullet fired during a dispute 200 feet from where he was standing.
The case remains unsolved.
Apparently, detectives from the law enforcement agency he served for more than 27 years are no closer to arresting the shooter than they were on that ill-fated Friday night, four days after Chambliss' 50th birthday.
If they have made progress with their investigation, they're not telling anyone – not even Chambliss' family.
"I don't know what's going on," Chambliss' daughter, Briyunna, said during a phone interview last week, adding that the last update on the investigation she received was from former Sheriff Deryl Loar, shortly before he left office in January 2021.
"He would keep in touch and check on us to make sure we were OK, and told me the detective who was working the case had retired," she continued. "That was over a year ago, and I haven't heard anything since."
Loar's successor, apparently, hasn't been as accommodating.
Briyunna Chambliss said she hasn't yet met with Sheriff Eric Flowers or his detectives to discuss the status of the agency's investigation, despite seeing Flowers at the Indian River County Victim Rights Coalition's annual candlelight vigil at the courthouse in December.
She said Flowers told her one of his detectives would call, and she's still waiting.
"I can't say the case isn't important to them because I haven't spoken to anyone there, but I'm extremely frustrated about it," Briyunna Chambliss said. "It's very important to me and my family.
"It's been five years," she added, "and there's not a week – or even a day – that goes by that I don't think about him and what happened."
Briyunna Chambliss said she plans to call the Sheriff's Office and speak with the detectives handling the case.
Vero Beach 32963 attempted to do the same multiple times over the past two weeks, hoping to provide readers with an update on status of the investigation, but the detectives declined to be interviewed.
Sheriff's Office spokesperson Debbie Carson said detectives needed to "go through the file and determine what information can be released without jeopardizing the investigation."
She said the agency also was planning to honor Garry Chambliss with a "remembrance," but no details were available.
Briyunna Chambliss said she had not been notified of any such plans. She's more concerned, though, with seeing the Sheriff's Office bring her father's killer to justice.
She said she's surprised the case hasn't already been solved, given that her father was a longtime deputy and the urgency law enforcement agencies usually place on apprehending cop killers.
"It makes me sad to know the shooter is still out there," Briyunna Chambliss said. "It makes me angry, too, because everyone believes this was done by someone from my community, so I could be walking around with someone who killed my dad. It could be someone I see all the time."
The night sky had arrived on Feb. 17, 2017, when gunfire erupted between the 4300 and 4400 blocks of 28th Avenue, where groups of people were gathered after a wake at the Mount Sinai Missionary Baptist Church.
According to a Sheriff's Office report, a bottle was thrown at a passing car, and the driver responded by firing gunshots, which prompted at least one person in the groups to return fire.
Garry Chambliss, known in the community as "Kool-Aid" because of his infectious smile, was standing near the road and, upon hearing the gunshots, yelled for people to get down before he was fatally struck by one of the bullets.
Hours later, deputies arrested 21-year-old Makhail Chambliss, who was a distant relative of the deceased, and charged him with "discharging a firearm from a vehicle," which is a felony under Florida law.
The bullets from his gun, however, did not match the caliber of the bullet that killed Garry Chambliss.
Three years ago, Sheriff's detectives investigating the case drove to the Broward County Jail to question two Vero Beach-connected rap musicians who two high-ranking, law enforcement sources said were at the scene of the shooting.
Detectives believed one of the rappers might've fired the fatal shot, the sources said, but the Sheriff's Office never confirmed the rappers were suspects or even persons of interest in the case.
Jamell Demons, also known as YNW Melly, and Cortlen Henry, also known as YNW Bortlen, both were indicted by a Broward County grand jury on two counts of first-degree murder in connection with the shooting deaths of two friends – Christopher Thomas Jr., 19, of Gifford, and Anthony Williams, 21, of Fort Pierce – in the early hours of Oct. 26, 2018, in Miramar.
If convicted, they could face the death penalty.
"The detectives thought it might've been the rappers, but that was three years ago," Briyunna Chambliss said. "I haven't heard much about them since then."
In October 2017, county officials honored the fallen deputy by naming 28th Avenue in Gifford, between 41st and 45th streets, "Sheriff's Deputy Garry Chambliss Avenue."
Briyunna Chambliss said her family planned to visit his grave to commemorate the anniversary of her father's death.
"I still have faith the killer will be caught," she said. "My father was trying to warn people and get them out of harm's way when he was shot. He died a hero."