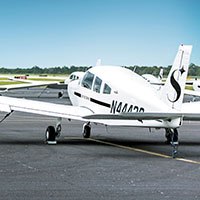 United Airlines partnership brings surge in applications to Skyborne flight academy
STORY BY RAY MCNULTY (Week of February 3, 2022)

Skyborne Airline Academy Vero Beach's new partnership with United Airlines' Aviate program, which will provide the flight school's trainees with a pathway to the cockpit of a major carrier, already is impacting enrollment here.
"We have seen a significant rise in applications, and we expect this to accelerate over the coming months," Skyborne Chief Executive Officer Lee Woodward said. "United has made it very clear in its announcements that it is looking to recruit more than 10,000 pilots over the next 10 years.
"A large proportion of these pilots will come through the Aviate program," he added. "So, to partner with United in this way is important for Skyborne, but it's also important for United.
"In choosing Skyborne as an Aviate partner, the airline can rely on us to select, train and mentor their next generation of first officers – their future captains – and we take this responsibility very seriously."
As part of the partnership, trainee pilots accepted into Aviate will be given access at Skyborne's Vero Beach academy to pilot mentors and a conditional job offer for a first-officer position at United, which Woodward said is "leading the way" in responding to the global pilot shortage.
Skyborne, which purchased Flight Safety Academy in May, and Aviate will work together in an effort to ensure only the best applicants will be admitted to the program.
Applicants must first meet Skyborne's criteria, then go through a pilot-selection process that includes aptitude and psychometric assessments, followed by an interview with Skyborne – all of which is done online to make the process more convenient.
After Skyborne cadets have completed the private certification phase of training, they may apply to the Aviate program. Woodward said there is no limit on how many cadets will be accepted, but he anticipates 120 to 200 spots being available annually.
He said Skyborne's admissions team will respond quickly to applicants and complete the selection process as seamlessly as possible.
"We are looking for the 'right stuff,' to borrow a phrase," Woodward said. "It is all about identifying talented individuals and developing their skills, knowledge and professionalism during their training and subsequent time as a Skyborne instructor before moving on to United."
He went on to say: "Our robust selection process offers candidates a high degree of assurance that we can support them to succeed in their career aspirations. If, however, they are not successful for proficiency reasons, then Skyborne offers a form of money-back guarantee."
The guarantee is an industry first in the U.S., Woodward said.
Skyborne, which was founded at the Gloucester Airport in the United Kingdom in 2018, has quickly earned an international reputation as one of the most respected commercial-pilot training school in the industry.
According to Jeff Devlin, the center director at the Vero Beach academy, the local campus currently has 200 students, nearly all training to become commercial pilots.
"There's a lot of interest in the Aviate program here," Devlin said, "and we're seeing an increase in the quality of students as well."
Devlin said Skyborne has 52 aircraft on site and is in the process of updating its fleet.
Curtis Brunjes, managing director of United's Aviate & Pilot Strategy, said he's confident Skyborne will be an "invaluable asset" to the program, citing the academy's "innovative approach to the aviation market, prestigious reputation and rigorous training."